Lizzie Armitstead will ride in Rio... but unanswered questions remain
With no offence having been committed, we may never learn every detail surrounding Lizzie Armitstead's missed doping tests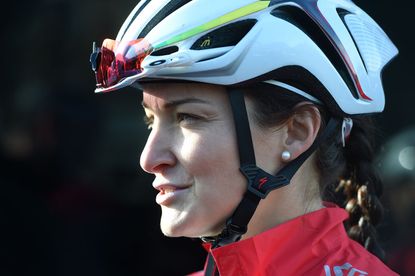 (Image credit: Andy Jones)
Lizzie Armitstead was, and remains, a clean athlete. Despite her missing three out-of-competition tests in 12 months, the anti-doping authorities have concluded that the 27-year-old world champion is not guilty of any rule violation.
The result is that Armitstead has been cleared to ride in the Olympic Games road race in Rio on Sunday. But though there may be a silver, or even gold, lining on Sunday afternoon, some may argue that a dark cloud will still linger over her. The news of her clearance to ride, which was broken by the Daily Mail on Monday night, creates an association that will be difficult to dispel in the minds of some observers.
Armitstead can do no more to prove her innocence, yet her case has shown that the anti-doping process and procedure is still remarkably opaque. After her provisional suspension and subsequent acquittal, what questions still remain?
What support did Armitstead receive from British Cycling?
British Cycling, the national federation, has stated that it had not contributed financially to Armitstead's legal costs in appealing her provisional suspension by UK Anti-Doping (UKAD) to the Court of Arbitration for Sport (CAS).
However it admitted that information garnered following its own legal consultation – about the impact on BC and the national team – was shared with Armitstead.
The extent of this information and the role the national federation played in Armitstead's case remains unclear. A spokesperson explained that decisions to support athletes were taken on a case-by-case basis, but it isn't clear whether support is available to all British cyclists and on what grounds it is provided.
Besides the fact that the federation receives funding from UK Sport based on Olympic performance, it is clearly to the advantage of British Cycling (big C) and British cycling (little c) to have Armitstead – a favourite for gold – compete in Rio.
Unquestionably, the decision by Armitstead and her team to resolve the issue with CAS (rather than through a national anti-doping panel as is usually the first port of call) resulted in a quicker conclusion.
Armitstead was provisionally suspended on June 11 and cleared to ride on July 21. This raises the question: is an athlete with the financial resources to take such an issue straight to CAS at an advantage to one without?
What did the doping control officer (DCO) do wrong?
Armitstead has avoided censure because CAS has ruled that the first of her missed tests did not adhere to protocol. The Daily Mail reported that the anti-doping officer failed to carry out the correct procedure at Armitstead's Swedish race hotel on August 20.
However, his or her error did not warrant an appeal from Armitstead at the time of the test, according to UKAD. Armitstead only appealed once the third test had been missed and she had been provisionally suspended.
With the CAS reasoned decision not public, we do not know what the DCO did wrong and why CAS upheld Armitstead's appeal. Was it a catastrophic failure of procedure or was it a clerical error, which Armitstead may have missed at the time and her legal team was able to highlight later? According to World Anti-Doping Code, a DCO should make a 'reasonable' attempt to contact the athlete, but the code does not spell out a precise procedure that must be followed, accepting that this is dependent on the nature of the location.
Nor do we know the details of UKAD's defence and what evidence was submitted. UKAD told CW it could neither comment on individual cases, nor those where no anti-doping offence was deemed to have occurred.
Of course CAS do not have to make its decision public; indeed, in order to do so it needs the permission of the athlete concerned. The exact details of Armitstead's missed test may remain private for some time.
Watch: Cycling Weekly's guide to the Olympic road events
Why did Armitstead miss two more out of competition tests?
Armitstead accepted responsibility for her two further missed tests, citing an administrative error and a family emergency as the reasons.
In this sense, Armitstead and her support team appear at the very least careless, particularly given that UKAD employ an athlete support officer whose job it is to work with athletes on two missed tests (as Armitstead would have been since October 2015) to ensure they don't miss a third.
>>> What is the 'whereabouts' system for anti-doping tests?
Last year Armitstead said she was tested on average once every three weeks, although said she was tested three times in a week in August last year. She has regularly spoken out against what she perceives as the relative lack of testing of some of her competitors.
Yet her statement, claiming that she supports clean sport because she was tested a day after her first missed test in August 2015, seemingly forgets a principal tenet of anti-doping. Detection can come down to a matter of hours, not days, which is why the cornerstone of anti-doping procedure is unannounced tests.
Anti-doping agencies can even employ targeted night-time testing, which was brought into force during last year's Tour and again this year to shrink the window of opportunity for an athlete to 'glow' – when banned substances or methods are detectable in blood or urine samples.
How often does this go on?
News of Armitstead's provisional suspension and subsequent clearance to ride may never have come to light were it not for information being passed to the Daily Mail, and their correspondent putting it to Armitstead's representatives.
The fact remains that the majority of these cases never see the light of day. Due to athlete rights to privacy and the potential for media to affect the legal proceedings, provisional suspensions are not announced and those which are subsequently not upheld are not made public.
Is the system regularly allowing appeals? How many athletes miss two tests, or even three, and escape sanction?
This begs the question: how many riders are sitting out provisional suspensions without them being made public?
In a sport where public confidence is low to begin with, we have to trust what we seeing and are told has – and the past 24 hours may have eroded that trust even further.
Thank you for reading 20 articles this month* Join now for unlimited access
Enjoy your first month for just £1 / $1 / €1
*Read 5 free articles per month without a subscription
Join now for unlimited access
Try first month for just £1 / $1 / €1