How did Lizzie Armitstead miss three anti-doping tests? 'Whereabouts' system explained
British world champion Lizzie Armitstead was cleared to ride in the 2016 Olympics after missing three dope tests. Here we explain the 'whereabouts' anti-doping system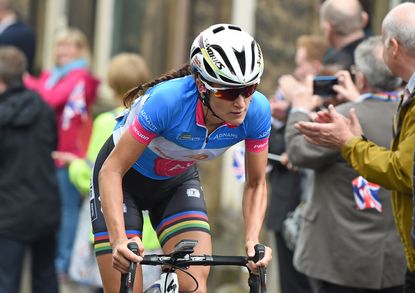 (Image credit: Andy Jones)
Road race world champion Lizzie Armitstead avoided an anti-doping ban for three missed tests after winning an appeal to sports high court, the Court of Arbitration for Sport (CAS), and cleared her path towards the Rio 2016 Olympics Games on Sunday.
However, the issue raised questions about the whereabouts out-of-competition testing system and how it works.
>>> Lizzie Armitstead cleared for Rio Olympics after UK Anti-Doping charge for missed tests
What is whereabouts?
Cycling's governing body, the UCI, adopted an Anti-Doping Administrative Management System (ADAMS) in 2008 so that professional cyclists could mark when and where they would be available for out-of-competition testing, the so-called whereabouts. The catch, if you are not where you say you are supposed to be or unavailable when testers arrive, it counts as a missed test.
Is a missed test the same as a doping positive?
Three missed tests in a period of 12 months, down from 18 months as of 2015, essentially is the same as a failed anti-doping test for a banned drug like testosterone. The idea is that since you were not there for three tests, you could be hiding something.
Do cyclists try to avoid tests?
American Tyler Hamilton wrote in his book The Secret Race how he dropped to the floor of his apartment, or locked the doors and pretended to be away, to avoid testers because he was "glowing" or had traces of drugs still in his body.
Do you have to say where you are every minute of the day?
Each quarter, cyclists must provide a 60-minute time slot between 5:00 and 23:00 and an address where they can be found for each of the coming three months. Failure to submit that information results in a missed test. Testers, however, may arrive to your stated location at anytime unannounced. You can update your address if you change location from that previously specified, via text or email.
What other information do they provide?
Along with an address and time, an athlete must submit an e-mail, telephone number, where they sleep, periods of travel in the day, where they will be competing and where they will be training. Teams will submit race and hotel information for cyclists at times. To make life easier, the World Anti-Doping Agency (WADA) now has iPhone and Android apps to help submit data.
Who does the testing?
Athletes live and train abroad, so it is not only the national anti-doping body, like the UKAD, that tests. Out-of-competition controls also are handled by the UCI, the national body where you are located, and WADA.
How often to cyclists serve suspensions?
Frenchman Yoann Offredo (FDJ), who cited administrative errors in his defence, sat out one year for missed controls. Dane Alex Rasmussen received a back-dated 18-month ban. The UCI stripped world champion track sprinter, Frenchman Gregory Bauge of his results and gold medals for the 2011 season for missing three controls.
Other sports have seen their share of cases, too. Athletics, for example, has had around 10 suspensions stemming from whereabouts violations. British sprinter Christine Ohuruogu served a ban and returned to win a gold medal in the 400-metre at the Beijing Games.
Is a missed test big news?
A missed out-of-competition control normally fails to make the news, but some surface. News leaked nine months later that Mark Cavendish missed a test in April 2011. He said that it was a "genuine administrative error" due to a last minute change in plans to train on Mount Etna. In 2015, Chris Froome (Sky) explained that he missed an anti-doping control while on vacation with his wife in Italy. Distance runner Mo Farah missed two anti-doping controls in the lead up to winning two gold medals at the 2012 London Olympics.
Is Armitstead the first to be cleared?
Olympic champion Jeannie Longo missed three controls and narrowly avoided suspension due to a technicality. Her lawyers argued that she should not have been in the testing pool for one of the missed controls.
Are missed tests made public?
Not as a matter of course. In Armitstead's case, she was cleared by CAS on appeal and under UCI anti-doping rules (14.4.3) public disclosure is not mandatory. Armitstead's case only came to light after the information was leaked to the media. It is possible that if it was not leaked, the public would not have known about it – and it is possible that other cases have been cleared in the past that have not been made public.
Thank you for reading 20 articles this month* Join now for unlimited access
Enjoy your first month for just £1 / $1 / €1
*Read 5 free articles per month without a subscription
Join now for unlimited access
Try first month for just £1 / $1 / €1