Lizzie Armitstead cleared for Rio Olympics after UK Anti-Doping charge for missed tests
The world champion missed three out-of-competition tests in a 12-month period, but was cleared by the Court of Arbitration for Sport due to an error by a UK Anti-Doping official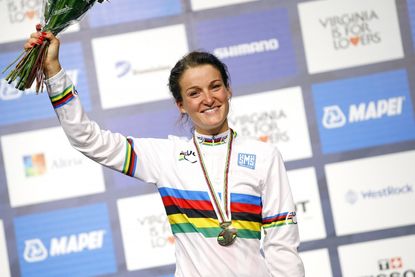 (Image credit: Watson)
Britain's Lizzie Armitstead has been cleared to race at the 2016 Rio Olympics after being charged by UK Anti-Doping (UKAD) for missing three out-of-competition tests.
UKAD provisionally suspended world champion Armitstead on July 11, who is aiming for a gold medal in the Rio road race, after she missed a third doping control in 12 months on June 9; the maximum limit on 'whereabouts' failures in that time limit.
>>> Rio 2016 Olympic Road Race and Time Trial: route, map and schedule
The 27-year-old was facing a four-year ban by UKAD, but subsequently won a battle in the Court of Arbitration for Sport (CAS) which ruled in her favour and struck off the first of the three missed tests.
Armitstead, whose lawyers shared information with British Cycling's legal team, managed to show that the UKAD official did not make sufficient efforts to contact her while she slept in a hotel on the morning of August 20, 2015.
The Boels-Dolmans rider was tested the following day after the round of the UCI Women's World Cup in Sweden.
Her two further whereabouts failures on October 5, 2015 and June 9 still stand, with Armitstead saying the former was a filing fault on her part on the Anti-Doping Administration and Management System.
Armitstead later released a statement saying she was looking forward to putting what had been a "difficult situation" behind her.
"I have always been and will always be a clean athlete and have been vocal in my anti-doping stance throughout my career," Armitstead said.
"I am pleased that CAS has accepted my position, having provided detailed information demonstrating the situation around my strikes.
"This issue was one of administration and was the result of UKAD not following proper procedure nor fully attempting to make contact with me despite clear details being provided under 'whereabouts'.
"I was tested in competition the day after this test, reinforcing my position that I do not cheat and had no intention of not being tested."
She continued to say that she would hope for clearer guidelines around those administrating the tests, so no other athlete faces the same situation.
"I understand how important it is to be vigilant in my role as a professional athlete and realise the potential implications this could have had. I would like to thank British Cycling and the team around me for all of their help and support."
"I am very much looking forward to putting this situation behind me and firmly focusing on Rio again after what has been an extremely difficult time for myself and my family."
Armitstead now heads to the Rio Games and the road race on August 7, having missed warm-up races through July due to her suspension.
Thank you for reading 20 articles this month* Join now for unlimited access
Enjoy your first month for just £1 / $1 / €1
*Read 5 free articles per month without a subscription
Join now for unlimited access
Try first month for just £1 / $1 / €1