Lizzie Armitstead didn't challenge missed doping test at the time, UKAD argues
UK Anti-Doping chief Nicole Sapstead says Lizzie Armitstead could have challenged her first missed doping test when it happened, only when the case came to court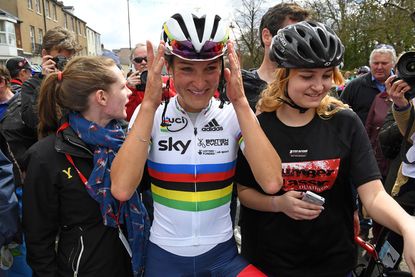 (Image credit: Andy Jones)
UK Anti-Doping (UKAD) chief executive Nicole Sapstead says the organisation will wait to receive the reasoned decision behind the Court of Arbitration for Sport's allowing of Lizzie Armitstead to compete in the Olympics despite missing three doping tests.
In a story that broke on Monday night, it was revealed that UKAD had sought Armitstead's expulsion from the Olympic Games because of the missed tests, but CAS had sided with the rider.
When Armitstead missed a third doping control in the space of 12 months on June 9 she was provisionally suspended, but argued that the first of the missed tests on August 20, 2015, should be struck off because the UKAD official didn't make sufficient efforts to contact her when she was asleep.
But Sapstead said in a statement that the 2015 world road race champion did not challenge the Whereabouts Failure when it was first put on her record last August.
"When UKAD asserts a Whereabouts Failure against an athlete, the athlete has the opportunity to challenge the apparent Whereabouts Failure through an external Administrative Review, before it is confirmed," Sapstead said.
"Only when three Whereabouts Failures are confirmed is the case then put through an independent review to determine whether the athlete has a case to answer for a violation of Article 2.4 of the World Anti-Doping Code.
"Ms Armitstead chose not to challenge the first and second Whereabouts Failures at the time they were asserted against her. At the CAS hearing, Ms Armitstead raised a defence in relation to the first Whereabouts Failure, which was accepted by the Panel. We are awaiting the Reasoned Decision from the CAS Panel as to why the first Whereabouts Failure was not upheld."
>>> How did Lizzie Armitstead miss three anti-doping tests? 'Whereabouts' system explained
Armitstead's other two Whereabouts Failures still stand, however, and one more missed test between now and October 5 could result in a ban of up to two years.
"I have always been and will always be a clean athlete and have been vocal in my anti-doping stance throughout my career," Armitstead said in a statement.
"I am pleased that CAS has accepted my position, having provided detailed information demonstrating the situation around my strikes.
"This issue was one of administration and was the result of UKAD not following proper procedure nor fully attempting to make contact with me despite clear details being provided under 'whereabouts'.
"I was tested in competition the day after this test, reinforcing my position that I do not cheat and had no intention of not being tested."
Thank you for reading 20 articles this month* Join now for unlimited access
Enjoy your first month for just £1 / $1 / €1
*Read 5 free articles per month without a subscription
Join now for unlimited access
Try first month for just £1 / $1 / €1