Lizzie Armitstead writes personal statement addressing 'Whereabouts Failures'
The world champion writes her own statement to try and clarify her side of the story after she was cleared of missing three out-of-competition doping tests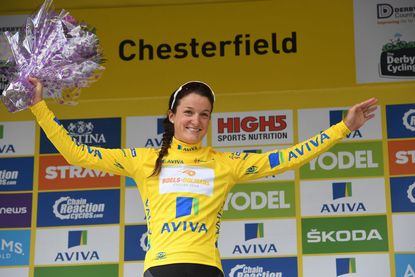 (Image credit: Andy Jones)
Lizzie Armitstead has released a personally written statement regarding the situation around her court battle against UK Anti-Doping (UKAD) after three 'Whereabouts Failures', saying, "this is my life and not a game of headlines".
The news broke on Monday night that world champion Armitstead had been cleared in time for the Rio Olympics after the Court of Arbitration for Sport (CAS) ruled that the first of her three missed tests was not valid.
>>> Lizzie Armitstead will ride in Rio… but unanswered questions remain
An athlete is liable for a ban if they are found to miss three tests within a 12-month period, with UKAD attempting to sanction Armitstead on July 11 after three 'strikes' on August 20, 2015, October 5, 2015 and June 9, 2016.
The first of these was subsequently struck off by CAS after the case was brought before them by Armitstead with support from British Cycling, as they concluded that the Doping Control Officer (DCO) at the time had not reasonably done enough to find her.
Many questions still remained after the initial news was revealed however, but 27-year-old Armitstead released a statement on Wednesday morning in an attempt to clarify her side of the situation, saying: "I believe I owe this statement to sports fans, people who love sport like I do".
You can read the full statement in the link below, in which Armitstead addresses each of the three situations that led to the whereabouts failures.
>>> Read the full statement here
In regards to the first (August 20), which was eventually struck off, she says that she "was available and willing to provide a sample to UKAD" and that her phone being in silent mode is not an argument against her, as contact by phone is not an approved way of locating an athlete for a DCO.
>>> Lizzie Armitstead didn't challenge missed doping test at the time, UKAD argues
Armitstead says that she did contest this missed test at the time in a written explanation to UKAD, which was not accepted on the eve of her journey to Richmond, USA for the World Championships. "I had no legal advice or external support at the time," she added.
Armitstead claims the October 15 failure was in fact a 'filing failure' and not a missed test (as UKAD were not attempting to test her), finding inconsistencies on the Anti-Doping Administration and Management System (ADAMS) between where she was staying and her indicated morning time slot. She says this was "an honest mistake rather than trying to deceive anybody".
She then says she was given support from British Cycling in order to ensure there were no further missed tests, with Simon Thornton of BC put in place to check on her location.
The Boels-Dolmans rider says that this "system fell apart" when Thornton left the organisation three weeks before the June 9 missed test without her knowledge. Armitstead then failed to change her one-hour testing slot on the ADAMS system, despite registering her accommodation, and missed a test as "it was clearly impossible to be in both locations".
>>> Watch: What are Team GB's track cyclists' first Olympic memories?
Armitstead says the oversight was due to "incredibly difficult" family issues at the time, but did not elaborate on the situation in the statements, only saying that UKAD did not view the situation as 'extreme' enough to free her of the missed test charge.
"I am not obsessively driven to success in cycling," she added. "I love my sport, but I would never cheat for it."
The ruling by CAS leaves Armitstead free to compete in the road race at the Olympic Games in Rio on August 6, where she'll be hoping to go one better than her silver medal in 2012.
Thank you for reading 20 articles this month* Join now for unlimited access
Enjoy your first month for just £1 / $1 / €1
*Read 5 free articles per month without a subscription
Join now for unlimited access
Try first month for just £1 / $1 / €1