HOY: I BELIEVE THE FRENCH HAVE PASTRIES FOR BREAKFAST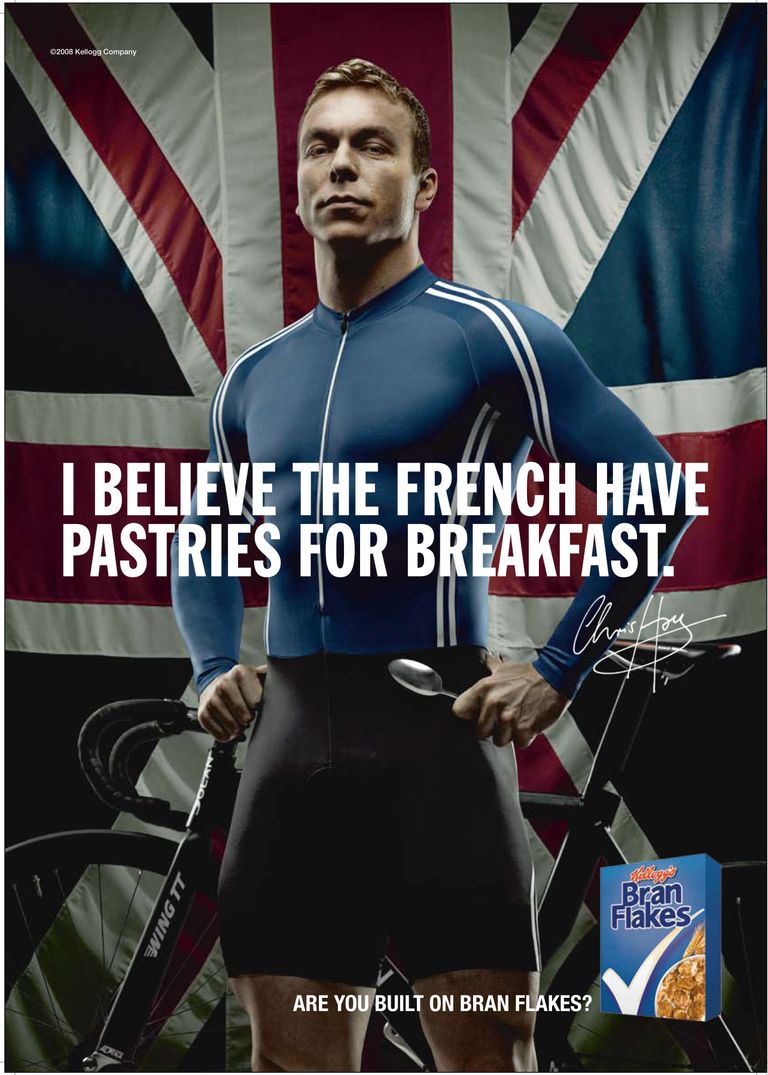 Triple Olympic gold-medallist Chris Hoy has appeared in a rather provocative advert for Kellogg's Bran Flakes.
"I believe the French have pastries for breakfast," says an imperious Hoy, referring to Britain's dominance over the French at the Beijing Olympics.
Hoy has ridden a tidal wave of public appearances and product endorsements since his unprecedented performance in China, but what further evidence is needed to show that Hoy (and indeed cycling) has finally entered the wider public consciousness than an advertisement with one of the nation's favourite breakfast cereals.
Hoy is believed to have signed a two-year deal with Kellogg's to appear in a televised advertising campaign for the brand, with the option to continue for a further two years. The advert has already appeared in print, with the televised adverts due to start next Monday.
?Our latest campaign is about reinforcing that association men have for our brand and why they purchase it,? said Bran Flakes brand manager, Jo Blackford,
?It?s about showing men how starting the day the right way can make a difference ? particularly if they are the kind of man who?s now in his 40s and 50s who?s not as fit as he used to be.
?That?s why we turned to Chris to help bring this to life ? in a way which is both fun and engaging. After all, no one epitomises how you can build a healthy body on a health diet more than a quadruple medal winning British champion?.
Hoy will face Lewis Hamilton at the Race of Champions on Sunday before flying up to the Sports Personality Awards in Liverpool, which will surely be Hoy's last high-profile appearance until after the track World Championships in March after British Cycling told Hoy's manager it was time for him to turn his attention back to training.
Hoy will ride the upcoming Rotterdam Six Day event, then will head to Australia for four weeks' training, then to the Copenhagen World Cup in preparation for the track World Championships in Poland.