HTC-Columbia team launch starts 2010 season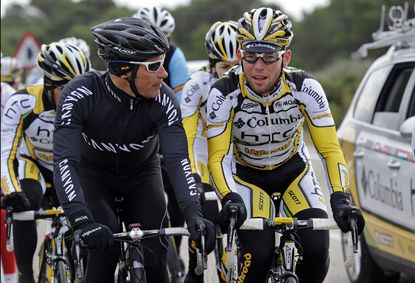 Mark Cavendish and his HTC-Columbia squad have kicked off their 2010 season in Mallorca, Spain with a team presentation on Tuesday.
The presentation took place in the hotel at Playa de Palma which the team are using as their training base during the final buildup to the 2010 season.
As team launches go, it was thankfully short - just 20 minutes long - and lowkey. Bike riders tend to want to win races, after all, and there's only so many ways of saying that.
However, team manager Rolf Aldag did make one essential point during his brief keynote speech.
HTC-Columbia won more races than any other professional squad in both 2008 and 2009, Aldag pointed out, and they want to do the same in 2010 - as simple and as complicated as that.
Central to achieving that objective will be Britain's Mark Cavendish, who took his place in the team's line-up looking lean and ready for action.
Cav's first race of 2010 will be the Tour of Qatar, just like in 2009, and where he won two stages last February.
Following a quick resume of each rider's acheivements, Cavendish and the rest of the men's and women's teams then headed off to a nearby beach for some team photos.
Big initial changes to the team in 2010 include the arrival of ten new riders in the men's squad, four of them neo-pros, and the change in order of the title sponsors, from Columbia-HTC to HTC-Columbia. But the main aim, to win as many races as possible, remains exactly the same.
Mark Cavendish (right) and sprint mentor Erik Zabel (left) take a ride in Mallorca
Related links
Mark Cavendish: Rider Profile
Cavendish misses out on BBC award
BBC Sports Personality of the Year 2009 gallery
Thank you for reading 20 articles this month* Join now for unlimited access
Enjoy your first month for just £1 / $1 / €1
*Read 5 free articles per month without a subscription
Join now for unlimited access
Try first month for just £1 / $1 / €1