Hutchinson beats Wiggins' 10-mile TT record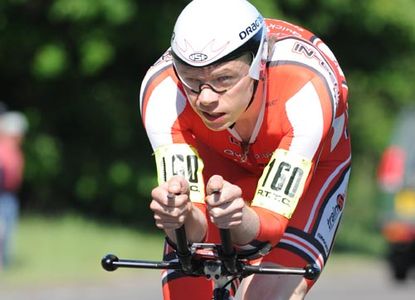 After years of chasing, Michael Hutchinson finally secured the 10-mile competition record when he sliced just one second off the record in the Wolds RT event on the V718 course in East Yorkshire.
The In Gear-Quickvit Trainsharp rider clocked 17-57 to beat Bradley Wiggins' 2006 time by one second - but claimed afterwards that he can go quicker.
"It wasn't a particularly fast day and it wasn't a particularly fast time," he said afterwards. "But it was a pretty good day and a pretty good time, but I do think I can go quicker."
Early conditions were good but offered some breeze which pegged back some riders in the separate women's and juniors event - but some got lucky with the wind and clocked good times, none more so than Ryan Mullen who, at 15 years old, broke the juvenile record with a time of 19-14 which was just one second off the junior record.
UTAG Yamaha.com rider Julia Shaw left disappointed after clocking 20-13. She won the women's event by more than a minute, but was 23 seconds off the women's course record.
But the winds died down somewhat for the men's race later in the day, which helped every one of the top ten go under the 20-minute mark.
Wolds RT (Newport, East Yorkshire).-

1 Michael Hutchinson (In Gear-Quickvit Trainsharp) 17-57 (competition record)
2 Richard Handley (Team Raleigh) 18-53
3 Adam Duggleby (I Ride RT) 19-25
Women.- Julia Shaw (UTAG Yamaha.com) 20-13. Juniors.- Ryan Mullen (Planet X) 19-14.
Thank you for reading 20 articles this month* Join now for unlimited access
Enjoy your first month for just £1 / $1 / €1
*Read 5 free articles per month without a subscription
Join now for unlimited access
Try first month for just £1 / $1 / €1