Hutchinson wins Blenheim Palace TT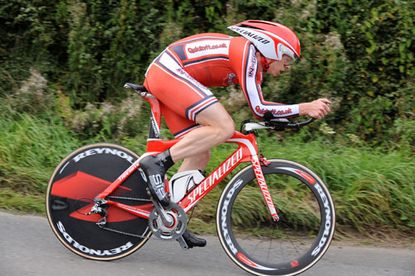 Bike Blenheim Palace time trial photo gallery by Andy Jones
Michael Hutchinson (In Gear-Quickvit RT) won Sunday's Bike Blenheim Palace time trial, successfully defending the race he won last year.
Multi-national champion Hutchinson timed 26 minutes and 21 seconds over the undulating, 20 kilometre circuit run on completely closed roads within the grounds of the Oxfordshire stately home, birthplace of Sir Winston Churchill.
Hutchinson shaved 30 seconds off the time he set in last year's event.
Matt Bottrill (I-Ride RT/MG Decor) placed second with 27-20, and Mark Holton (Shorter Rochford RT) third with 27-53 out of a field of well over 300 riders. Hutchinson, Bottrill and Holton were the only three riders of the day to go under 28 minutes on the course.
Julia Shaw (Utag-Yamaha) matched Hutchinson by also defending her 2008 win. Shaw clocked 29-57 over the testing circuit, which was the 12th fastest time of the day. Ruth Eyles (Beacon RCC) was second fastest woman with 31-09, and Rebecca Slack (London Dynamo) third with 32-16.
Run under Cycling Time Trial rules, the Blenheim TT is a completely open event to encourage a new audience to take part in the 'race of truth'. Around a third of those taking part in teh 2009 event were novice testers.
Bike Blenheim Palace 2009 played host to well over 4,000 cyclists taking part in several big events - the Bike Blenheim cyclo-sportive, Brompton World Championships, cyclo-cross and, of course, the TT.
Results

Bike Blenheim Palace 2009: Time trial, 20km, men

1. Michael Hutchinson (In Gear-Quickvit RT) in 26-21
2. Matthew Bottrill (I-Ride RT/MG Decor) 27-20
3. Mark Holton (Shorter Rochford RT) 27-53
4. Tom Yeatman (Glendene CC/Biketrax) 28-12
5. Scott Walker (I-Ride RT/MG Decor) 28-45
Women

1. Julia Shaw (Utag-Yamaha) in 29-57
2. Ruth Eyles (Beacon RCC) 31-09
3. Rebecca Slack (London Dynamo) 32-16
4. Louise Dutch (Poole Wheelers) 32-18
5. Jenny Lloyd-Jones (London Dynamo) 33-25
Juniors

1. Tom Yeatman (Glendene CC/Biketrax) 28-12
Veterans

1. Michael St Leger (VC St Raphael) 29-32
Full results on Cycling Time Trials website>>
Related links
BikeBlenheim Palace time trial photo gallery by Andy Jones
Bike Blenheim Palace 2009 preview
Thank you for reading 10 articles this month* Join now for unlimited access
Enjoy your first month for just £1 / $1 / €1
*Read 5 free articles per month without a subscription
Join now for unlimited access
Try first month for just £1 / $1 / €1