Hutchinson wins National 10 time trial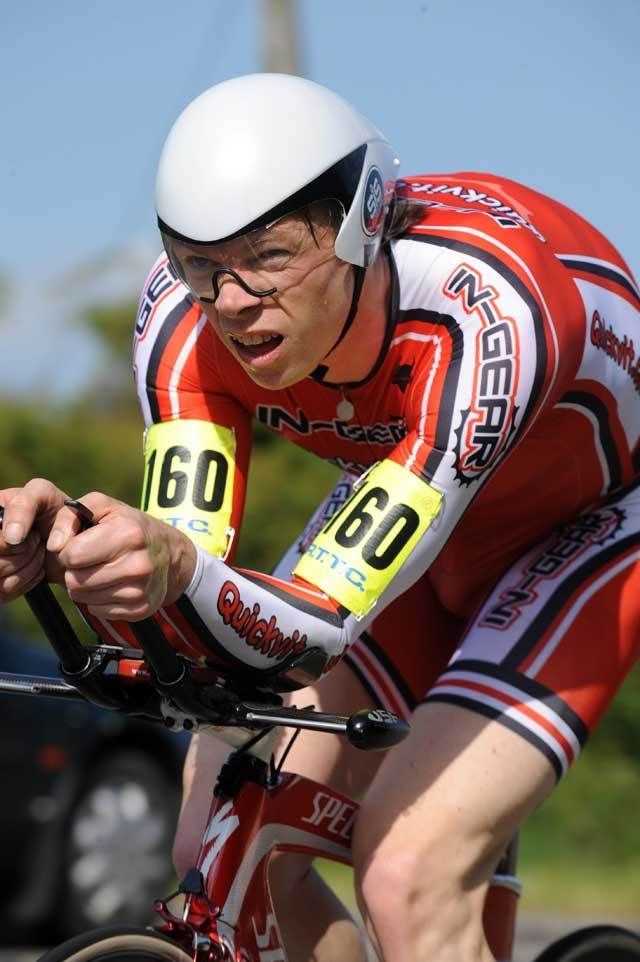 Stuart Dangerfield makes his return to top level British time trialling
Julia Shaw puts in a dominant ride to win the women's title
National 10-mile time trial 2009 photo gallery, by Andy Jones>>

Clocking a time of 19 minutes and 34 seconds, Michael Hutchinson claimed his seventh victory in the national 10-mile time trial championship near Newbury, Berkshire this afternoon.
Recording the only +30mph ride of the day, the 35 year old In-Gear Quickvit RT rider won the event with a half a minute margin over Andy Tennant. A further 10 seconds back, Hutchinson?s old adversary Stuart Dangerfield finished third.
Although the outstanding favourite, Hutchinson ? who as defending champion started last - was given a good run for his money.
Making the most of the pursuiter?s speed that once won him the junior world title, 22 year old Tennant was quickest out to the turn. It was only thanks to Hutchinson clocking exactly nine minutes for the return leg that he was able to override that 10 second deficit and turn his ride into such a comfortable-looking victory.
?[Going into the race] I wasn?t as confident about the result as a lot of people seemed to be on my behalf,? observed Hutchinson. ?Every race you go into like this, there are lot of fast riders out there and they want to win it as much as I do.?
The wins in the other championships turned out equally convincing. Veteran Julia Shaw (Utag-Yamaha) clocked 21-49 to beat Lynn Hamel by 50 seconds for the women?s title, while Glendene CC?s Joseph Perrett took the junior event with a time that would have been quick enough to claim equal eighth amongst the seniors.
The event, based at Woodlands St Mary, was promoted by Newbury Road Club.
Find out more about the National '10' in this week's Cycling Weekly magazine
RESULTS
National 10-mile time trial, men
1. Michael Hutchinson (In-Gear Quickvit RT) 19-34
2. Andrew Tennant (Halfords Bikehut) 20-04
3. Stuart Dangerfield (Shorter Rochford/Exclusive Ranges RT) 20-14
4. Matthew Bottrill (Team I-Ride) 20-20
5. Adrian Lansley (North Hants RC) 20-27
6. Ben Instone (www.scientific-coaching.com) 20-31
7. Stephen Walkling (Velocity Bikes) 20-42
8. Charles McCulloch (Shorter Rochford/Exclusive Ranges RT) 20-47
9. Michael Nicolson (Dooleys CRT) 20-48
10. Nino Piccoli (API Metrow) 20-51
National 10-mile time trial, women
1. Julia Shaw (Utag Yamaha) 21-49
2. Lynn Hamel (Team NCA) 22-39
3. Sarah Storey (VC St Raphael) 22-50
4. Emma Trott (Welwyn Whs) 22-52
5. Lynne Taylor (Walsall Roads Club) 22-55
6. Ruth Eyles (Beacon Roads CC) 23-00
7. Charlotte Blackman (London Dynamo) 23-09
8. Lesley Walkling (a3crg) 23-24
9. Michelle King (Wyre Forest CRC) 23-25
10. Christine McLean (Shetland Whs) 23-37
National 10-mile time trial, junior men
1. Joseph Perrett (Glendene CC) 20-47
2. Conor Dunne (Hemel Hempstead CC) 21-34
3. Tom Yeatman (Glendene CC) 21-47
National 10-mile time trial, junior women
1. Sara Gent (In Gear Development Squad) 29-35
Michael Hutchinson putting in the day's only sub-20 minute ride
Junior winner Joseph Perrett
National 10-mile time trial 2009 photo gallery, by Andy Jones>>