I took part in the world's hardest race and survived...just (video)
The Tortour Cyclocross was the World's first multi-day cyclocross gravel stage race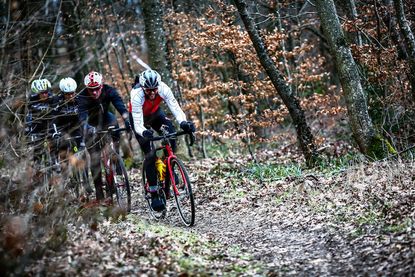 (Image credit: Steffen Freitag)
Get The Leadout Newsletter
The latest race content, interviews, features, reviews and expert buying guides, direct to your inbox!
Thank you for signing up to The Pick. You will receive a verification email shortly.
There was a problem. Please refresh the page and try again.
I'm soaked in sweat and my lower back is cramping. I have my left arm wrapped around a tree, my right hand is grasping my bike and I'm akin to Bambi on ice as my feet slip and slide in the mud and leaves.
It wouldn't be so bad but I'm three hours into a ride that will take me close to five-and-a-half hours and unbeknown to me I am only a third of the way up a steep climb which is almost impossible to walk/clamber up, let alone ride.
>>>The best cyclocross bikes: a buyer's guide
Multi-stage
The inaugural Tortour Cyclocross held in Schaffhausen, Switzerland, was the world's first-ever multi day ultra cyclocross and gravel stage race.
From February 12 to 14, close to 90 riders from 10 different countries covered over 200km across a variety of terrain which included around 4,000m of climbing.
The start list included solo riders, teams of two and teams of four. Among the racers were some big names in the world of off-road cycling, including mountain bike and cyclocross legend Thomas Frischknecht (who also took part in the 1996 Atlanta Olympic road race), current German Enduro mountain bike champion Fabian Scholz and Lukas Winterberg, who finished in the top 30 at the 2016 cyclocross world championships.
>>> Motor found in rider's bike at World Cyclocross Championships
The Prologue - 20km
The 20km prologue had almost a 60/40 split of off-road riding and fast tarmac sections.
I had naively expected it to be treated as a leg freshener; however, from the gun it was clear this was not going to be a jaunt. The pace was fast and furious with riders darting left and right to get the best line.
After seeing Winterberg et al pushing the pace on the front, I realised that if I was going to survive the two longer stages I needed to reign in my effort.
Going into the red to save 30 seconds would be silly, when, if I was to have a tough day on either Saturday or Sunday I could easily lose an hour or fail to finish.
>>> How to get into cyclocross
Luckily I managed to jump onto a small group, sat at the back and rolled over the finish line in a respectable time. Winterberg led in the field with an impressive time of 38-33.
Stage one - 99km with 2,500m of climbing
The previous night's snowfall had left puddles on the road and there were reports of thick snow higher up on the course.
Similar to the Prologue, the race kicked off at a fair lick. It was a bit demoralising to see a large group of riders pull away, and I tried to convince myself I would see them later.
The route's stunning scenery was more than matched by the exceptionally tough parcours of the Tortour's queen stage. This was to be my toughest day on a bike, in fact, simply my toughest day.
Ascending was testing; the mixture of thick snow, slushy mud and technical sections made maintaining even three miles an hour quite an achievement.
>>> How to ride faster up short, steep hills (video)
On the road you can recover at the top of a climb, not so at the Tortour. When cresting a hill there was little respite as the surface was uncompromising and often covered in thick snow which, again, made any forward movement a challenge and frequently resulted in stepping off the bike.
Descending was my favourite part of the stage, but required a lot of concentration. I felt in the zone when flying down the technical slopes and could see the racing line. It was fun pushing my Focus CX hard and braking late.
>>> Mark Cavendish takes time out on Valentine's day to help London cyclist fix a puncture
After riding for just under three hours I started to feel surprisingly good - I even started to think about catching other people, rather than just finishing, which was fortunate as the day's biggest challenges were just around the corner.
As I took a sharp right hand turn I quickly realised I'd have to dismount. The incline was closer to being climbed with a rope than a bike. As I gingerly stepped off the bike my lower back began to scream at me.
I peered upwards and could see that at the very least this was going to be a slog. After a few minutes of slipping and sliding, I was beginning to curse to myself and hope that there would be a left turn soon, surely the organisers can't expect me to keep just going up.
Unfortunately each time I looked ahead, whilst trying to anchor myself to the hill, I'd spot a fellow rider/walker even further skywards. When I finally reached the top, it felt like a mini, no major, victory.
Getting going again was difficult. The snow was thick, my cleats and pedals were clogged with ice and mud, and my overshoes had been dislodged so that they no longer covered my toes.
Watch our Cyclocross buyer's guide
I stopped at the second, and last, service station to refuel on Swiss cakes. It would have been helpful if I had paid more attention at the race briefing, that way I'd have known the last 30km included a serious road climb and a long testing off-road downhill section.
My cyclocross gearing meant the ascent was an out of the saddle all the way kind of climb. It wasn't a case of going easy or hard, I just went at the pace I could manage.
On the last major off-road descent of the day I experienced severe fatigue in my forearms which meant braking wasn't really an option and I was getting dangerously close to being out of control on the descents.
In the last 10kms I caught a few riders and enjoyed, relatively speaking after five hours of riding hard, the ride back into Schaffhausen.
Route took its toll
The terrain had taken its toll on all the riders and their bikes. At the sharp end of the race Winterberg had been leading by more than ten minutes when, 10km from the finish his front wheel was obliterated. He ended up coming in sixth and losing eleven minutes.
Soon after finishing the enormity of the ride began to hit me, both physically and mentally. The walk up the steep climb had pushed me to my limits.
Other competitors felt the same: one rider said the stage was tougher than an Ironman and another compared it to a day in the United States Army Ranger School.
Stage two - 90km with 1,500m of climbing
With rain forecast all day we were facing a long wet day in the saddle. Fortunately the final stage included more road sections, so I added some air to my tyres. I also slightly increased my saddle height as my knee was feeling a little tender.
The ride started at a more sedate pace than the two previous stages, but there was a surprise for many of the riders when we turned off the road onto a steep trail covered with loose stones.
As we crested the hill, I decided (it wasn't really a choice) to sit in rather than follow the leaders - I was hoping my legs would feel better as the day went on, otherwise finishing was going to be tough.
Somewhat unexpectedly the organiser's ramped up the technical difficulty of the route. A sharp turn on to a section of single track presented a camber and an almost sheer drop to the left.
Also thrown into the mix were trees roots, leaves, soft mud, puddles and stone distance markers. I began to regret my decision to add air to my tyres.
For all but the most skilled riders there were sections that required dismounting and slipping and sliding down the descents.
The remainder of the stage was by no means easy - four hours of riding with lots of gravel tracks and off-road trails could never be said to be a light spin - but compared to the epic day before the stage felt quite comfortable.
As I rolled over the finish line I was congratulated by the other competitors. There was a real feeling of camaraderie from the elite racers down to those who were simply surviving, of which I was one.
Winterberg managed to win the overall, overturning the 11 minute deficit to win from Fabian Obrist and Silvio Büsser by 3-22 and 6-13 respectively.
Route Marking
Considering the length and type of route, the course was marked superbly. It was far better than I have experienced at many domestic events. However, it was not without fault and some sections and turns could have been marked more clearly.
Accommodation and Food
There are different tiers of package available, from bringing your own camper van to staying in a four star hotel. The evening meals were plentiful and the food at the services stations was impressive. It is hard to fault the race support.
For more information go to Tortour.
Thank you for reading 20 articles this month* Join now for unlimited access
Enjoy your first month for just £1 / $1 / €1
*Read 5 free articles per month without a subscription
Join now for unlimited access
Try first month for just £1 / $1 / €1