Icons of cycling: Madonna del Ghisallo, Il Lombardia's signature climb
We look at the almost sacred allure of Il Lombardia's signature climb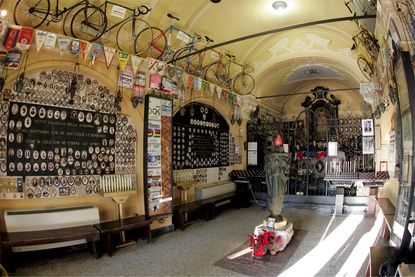 The fifth and final Monument of the season started life as the Giro di Lombardia but is now simply Il Lombardia. Two words perhaps say it better than three — because this race is all about Lombardy.
The one-day Classic is set in the most beautiful part of this region in northern Italy, an area known as 'the Italian Lake District'.
>>> Watch: Vincenzo Nibali's amazing descending in Il Lombardia (video)
Il Lombardia threads through soaring, rocky peaks and around deep blue lakes on a route that has changed many times yet always retained its character.
There are countless climbs for a route-planner to play with in this part of Italy, but one is a constant: the Madonna del Ghisallo. It has been part of the race since 1919.
>>> Vincenzo Nibali to ride Giro d'Italia in 2016 while Fabio Aru targets Tour de France
The 10.6km climb starts in the resort of Bellagio, among the beautiful holiday villas at the very tip of the piece of land that sits between the two 'legs' of the (upside-down) Y-shaped Lake Como. This iconic climb's real name is the Passo del Ghisallo.
Like a virgin
The name Madonna del Ghisallo comes from the chapel at the top, where it is said that the medieval Count of Ghisallo was saved from a band of robbers by the appearance of the Virgin Mary.
It's a tranquil place of birdsong, sunshine and dappled shadows, and even when Il Lombardia has been and gone each year, it remains a destination for cyclists.
Conquer any ascent
The Madonna del Ghisallo is the patroness of cyclists, declared by Pope Pius XII during the 1949 Giro d'Italia. An eternal flame burns inside in memory of every cyclist who has died on Italian roads, and the walls are hung with their pictures and with bikes and jerseys donated by champions from every era.
Gianni Motta, Felice Gimondi and Eddy Merckx have bikes there. Francesco Moser's 1984 Hour Record bike looks prehistoric compared to the elegant aerodynamic track machines of today.
Undoubtedly the most poignant bike here is that of the late Fabio Casartelli, its forks cruelly bent back by the impact of the crash that cost the 1992 Olympic road race champion his life on the descent of the Col du Portet d'Aspet in the 1995 Tour de France.
And now, behind the chapel, behind the statues of Gino Bartali and Fausto Coppi, there's a museum of cycling, a modern purpose-built centre that houses a huge archive of Italian cycling history.
It was created by Fiorenzo Magni, never a winner of Il Lombardia but a Lombardian by birth. Magni's claim to cycling fame lies further north, in Flanders, where he holds the record of three consecutive wins in the Ronde van Vlaanderen and is 'Il Leone delle Fiandre', the only non-Flemish cyclist to be hailed as a Lion of Flanders.
Thank you for reading 10 articles this month* Join now for unlimited access
Enjoy your first month for just £1 / $1 / €1
*Read 5 free articles per month without a subscription
Join now for unlimited access
Try first month for just £1 / $1 / €1
Freelance Journalist & Author
Chris has written thousands of articles for magazines, newspapers and websites throughout the world. He's written 25 books about all aspects of cycling in multiple editions and translations into at least 25
different languages. He's currently building his own publishing business with Cycling Legends Books, Cycling Legends Events, cyclinglegends.co.uk, and the Cycling Legends Podcast