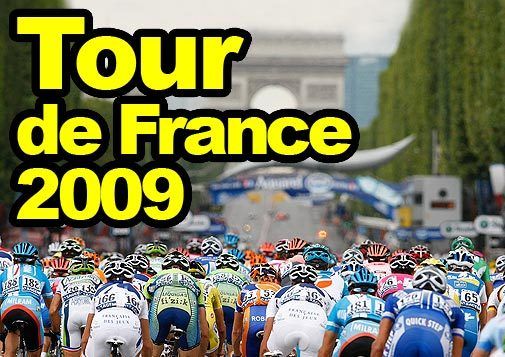 Tour de France 2009 facts and figures
Total length: 3,450 kilometres - approx. About the usual length for the Tour - the 2008 total was roughly 3,500.
Time trialling: 55 kilometres individual, 38 team time trialling (2008 total: 82 - but all individual).
Mountain top finishes: three (Arcalis, Verbiers, Mont Ventoux) (2008 total - four)
Days of mountain climbing: eight - three in the Pyrenees, three in the Alps, one in the Jura, one up the Mont Ventoux (2008 total, five). Lots more chances for the mountain climbers.
Number of rest days: two (2008 - the same)
Time bonuses: just like in 2008, these have been scrapped from the 2009 Tour.
Team time trial: no strange rules will limit possible time losses in the team time trial like in 2004. Instead, the time lost on the line is the time that counts.
And finally... Pat McQuaid (UCI president) was at the presentation. In 2007 ASO wouldn?t even give McQuaid an guest pass to the Tour. McQuaid?s presence - for the first time in several years - confirms the end of the rift between ASO and the UCI.
Amongst those missing were Pierre Bordry, head of the French anti-doping agency (AFLD). Bordry is apparently miffed that the UCI will be taking over drug-testing at the Tour again in 2009.
Also a no-show was a certain Lance Armstrong - whose directeur sportif, Johan Bruyneel, said that the American?s chances of doing the Tour in 2009 were currently ?50-50.?
TOUR DE FRANCE 2009 LINKS
9 reasons why Mont Ventoux is a symbolic climb
Analysis: Mont Ventoux to decide the Tour
Inside the Tour: 2009 race by numbers
Etape du Tour 2009: It's the Ventoux
2009 Tour de France route stage-by-stage