Jason Kenny launches Revolve24 cycling challenge around Brands Hatch (video)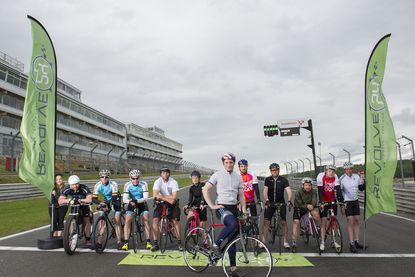 (Image credit: Joolze Dymond 07766144950)
Olympic gold medalist Jason Kenny has launched a 24-hour cycling challenge to take place on the Brands Hatch race circuit in September.
The Revolve24 race will pit teams, or even soloists, against each other to see who can complete the most laps of the 2.4-mile circuit.
While the asphalt may be perfectly smooth, it won't be an easy ride around the course, with 213ft of climbing on each lap and some pretty rapid descents to boot.
"I've always been a keen motorcycling enthusiast since a young age, so to combine this with cycling, Revolve24 is a dream event for me to be involved in," said Kenny, who set a best lap of 6min 16sec.
"Brands Hatch is one of the world's most iconic race circuits, so to cycle round it was a pretty surreal experience but insanely fun.
"To see thousands of people here racing round the course on their bikes and enjoying a weekend of cycling entertainment is going to be great, and from taking on the course, the cycling side of things won't disappoint!"
>>> Isle of Man CC sportive gets new 24hr challenge
With teams of two, four, six or eight able to enter, as well as those who want to complete the challenge alone, organisers are confident that groups could ride up to 600 miles around the track, which would involve 53,000ft of climbing.
Breast Cancer Care is the chosen charity partner for the event, which takes place on the weekend of September 19/20, with teams able to enter on www.revolve24.com.
After Brands Hatch, Revolve24 will go on a worldwide tour, with events on famous motor racing circuits in the USA, France, Spain, Portugal and Canada.
Thank you for reading 20 articles this month* Join now for unlimited access
Enjoy your first month for just £1 / $1 / €1
*Read 5 free articles per month without a subscription
Join now for unlimited access
Try first month for just £1 / $1 / €1