Jens Voigt turns up to club 10-mile time trial; rides it twice, first on tandem then as two-up
Legendary German rider makes second appearance at Crabwood CC 10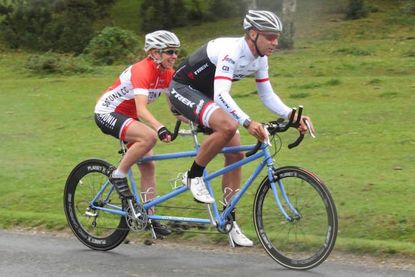 (Image credit: Mary Corbett)
If you fancy doing a time trial with Jens Voigt then your best bet is to head to a Crabwood Cycling Club 10 at the start of September, where the legendary German showed up for the second year in a row.
Voigt was in the New Forest for the fifth edition of his Shut Up Legs charity ride, raising money for the Epilepsy Society, and after riding his event on Saturday, headed to the Crabwood 10 on Sunday with Stuart Grace, who helps to organise Voigt's charity ride and also regularly rides the Crabwood's events.
>>> Steve Cummings turns up to local time trial and smashes it on his road bike
In 2016 Voigt played the role of celebrity pusher-offer, but this time round was tempted to bring his bike along, taking to the course not once, but twice.
First off Voigt joined Sotonia CC rider Mary Corbett on a tandem, setting a time of 25-26 but more importantly helping to raise awareness for Mary's fundraising efforts as she tries to raise £12,000 for the ME Associations Ramsay Research Fund which works to find a cure for chronic fatigue syndrome (ME).
>>> Watch: How to pace a long time trial (video)
After posing for a few photos, Voigt then took to the road again, this time alongside Jase Cakebread who had won a charity raffle to ride a two-up time trial with the two-time Tour de France stage winner and former Hour Record holder.
The duo set a time of 27-45 in wet and windy conditions on the P164/10 course in the New Forest, before heading back to the race HQ in a dusty car park just east of Lyndhurst for a few more photos and presumably a cup of tea and slice of home-made cake, with more than £15,000 raised for the Epilepsy Society over the weekend.
Thank you for reading 20 articles this month* Join now for unlimited access
Enjoy your first month for just £1 / $1 / €1
*Read 5 free articles per month without a subscription
Join now for unlimited access
Try first month for just £1 / $1 / €1