How to pace a long time trial (video)
Pacing is key when it comes to time trials: go off too fast and you'll fade, hold too much back and you'll be disappointed with your time. Here we look at pacing, efficient use of energy and nutrition strategies to help you perform to your best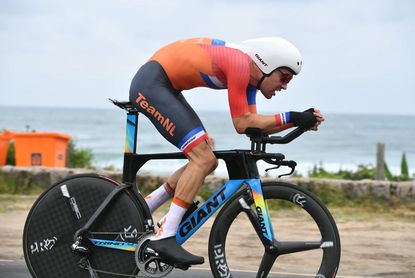 (Image credit: Graham Watson)
Get The Leadout Newsletter
The latest race content, interviews, features, reviews and expert buying guides, direct to your inbox!
Thank you for signing up to The Pick. You will receive a verification email shortly.
There was a problem. Please refresh the page and try again.
Endurance cycling is an exercise in managing your finite energy reserves. Finishing an event with energy to spare suggests you rode too conservatively; struggling or even failing to finish suggests you went out too hard. Judging it right is a skill gained through experience.
>>> Watch – Training zones: what are they and why do they matter?
Whilst pacing a time trial accurately requires you to have a good knowledge of the efforts you can maintain over certain distances, other factors contribute to how well you complete the ride. Nutrition becomes more significant the longer the distance and the play off between aerodynamics and comfort needs to be balanced.
Improve your pacing
There are three primary elements that must be understood to improve your pacing strategy; knowledge of the course, understanding your physical capabilities, feedback. Study the course carefully and if possible recce it before the event. Having a plan for how to expend your energy on the climbs is crucial but also note likely headwind or tailwind sections.
>>> How to perfect your event day routine
On a perfectly flat course on a still day, the optimal strategy to complete the course would be to adopt a perfectly even pace all the way round. For example if you wish to ride 100 such miles in 5 hours you would adopt a speed of 20mph from the start and hold it all the way round.
If you have a power meter, this would mean having the same power for the first hour as the last hour and every pedal stroke in between. In terms of effort however, this means starting out fairly easily but seeing a progressive increase in effort as you fatigue and get closer to the end.
>>> Five minute warm-up exercises to do before you ride (video)
This perfect day never happens, instead the best advice is to "push hardest where the course is slowest". You will lose proportionately more time uphill and into a headwind than you will ever make up on the descents and tailwind sections so you must invest extra effort into minimizing the time lost on these key sections.
Eeking out your energy reserves
The principles of pacing remain the same regardless of distance, you simply want to reach the line on and not before the point you exhaust your physical reserves.
>>> We list the best time trial and triathlon bikes
But how do you know what you are capable of and how deep those reserves are? Experience here is absolutely crucial and using data from your heart rate monitor or power meter will give you something to work to. If you test your fitness regularly you can calculate what your sustainable effort is likely to be for given distances, but this needs to be tried in training.
A heart rate (HR) monitor can give you information as to the sustainability of an effort – measure your average HR over a 20-minute maximal time trial and you have a reference point to guide all of your endurance efforts. 70-80% of this average is generally the most that is sustainable for ~4-7 hours so if you see your HR above this figure for sustained periods of time in the early part of your ride then maybe it's wise to ease off.
>>> How to ride with a power meter
A similar approach can be used with a power meter but with even more control and precision. The same 20-minute time trial effort can give you an average power against which to guide your efforts. A power meter gives instant feedback on how hard you're pushing. A similar adjustment can be made as with heart rate and 65 – 80% of your best 20 minute effort should be sustainable for 100 miles or ~4-7 hours.
Nutrition
The longer your time trial the more significant your nutrition strategy is. During a 10 mile time trial most riders would not need to eat or drink, it is pre-event nutrition and hydration that makes the difference.
Over a 25 mile course you are likely to want to take on a small amount of fluid and carbohydrate, most likely in quick-digesting gel form.
Once you are racing for more than an hour then you need to pay close attention to the amount of carbohydrate you are taking on board. For intense, sustained efforts such as time trials you will need to consume 60g-80g of carbohydrate per hour. Read the packets to work out the exact quantities but generally a gel, a 500ml sports drink and half an energy bar contain around 20g-30g of carbs each.
Those riding 12 hour time trials often opt for more solid foods and 'real' foods instead of relying purely on supplements. The important thing is to experiment in training as this will let you know what flavours you prefer and what your body will tolerate.
Thank you for reading 20 articles this month* Join now for unlimited access
Enjoy your first month for just £1 / $1 / €1
*Read 5 free articles per month without a subscription
Join now for unlimited access
Try first month for just £1 / $1 / €1
Get The Leadout Newsletter
The latest race content, interviews, features, reviews and expert buying guides, direct to your inbox!
Hannah Reynolds interest in cycling started while studying for a degree in Sports Science at the University College Chichester. A number of students and lecturers were elite and even world class cyclists, many of whom went onto long-term careers in cycling. Despite being a complete novice she was taken under the wing of the experts and given a fast-track introduction to the world of road racing, cross-country mountain biking, time trials and cyclo-cross. A committed dabbler whose passion outweighed her talent Reynolds has competed across all disciplines of cycling bar BMX. In the very distant past she has been south-east road race champion, southern cyclo-cross champion and finished third in the European 24hr Solo mountain-bike champs in 2011. She was also the Fitness Editor of Cycling Weekly for 15 years.
In more recent times Reynolds has worked as a cycle guide in the UK and France. She is author of several cycling books, France-en-Velo a guide to the ultimate 1000 mile cycle route from the Channel to Med; Britain's Best Bike Ride. LEJOG1000; A 1000 mile journey from Land's End to John o' Groats and 1001 Cycling Tips. Her cycling now is less competitive and more focussed on travel and helping her young son to experience the world by bike.