JEREMY HUNT'S GREATEST HITS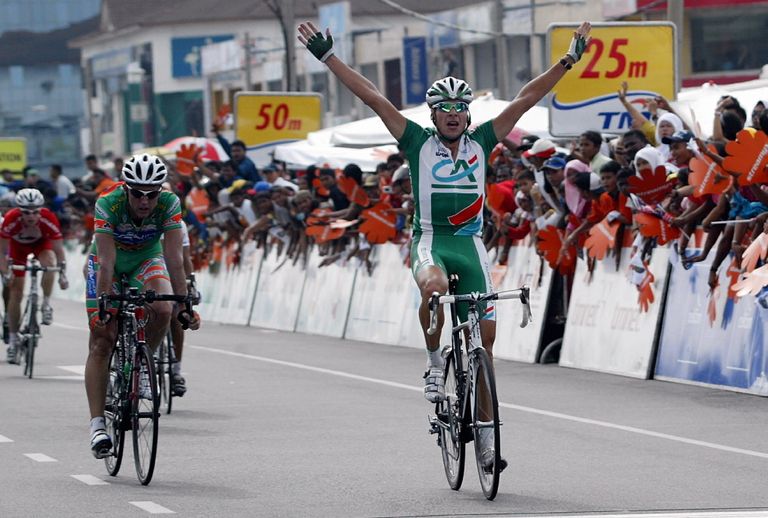 Jeremy Hunt won the second stage of the Tour of Langkawi after a chaotic sprint.
It was the Devon-born rider?s 25th victory since turning professional for the Spanish Banesto team in 1996.
Since then, he?s ridden for French squads Big Mat and MBK-Oktos, and the Belgian team mrbookmaker.com, which became Unibet.com in 2006.
Last season should have given Hunt a chance to race against the best but Unibet.com were the political football in the war between the UCI and the grand tour organisers, which meant they were left out of most of the top races despite having ProTour status.
This season Hunt, who will turn 34 next month, is riding for Crédit Agricole, where he has been tipped to replace Julian Dean as Thor Hushovd?s leadout man.
Today he won in Sitiawan, beating Matteo Priamo, an Italian racing for CSF Group Navigare.
Here we take a look back at some of Hunt?s best wins as a professional?
1997 Vuelta a Aragon
Stage 5 Hunt beats Erik Zabel and Mario Cipollini into second and fourth places respectively on the sort of technical, twisty finish he relishes.
1997 British Road Race Championship
On a tough course at Brynmawr, near Abergavenny in Wales, Hunt crashes but gets up to beat Mark Walsham and Matt Stephens at the finish.
1997 Circuit de Getxo
Settling in nicely in the Banesto team, Hunt wins a one-day race at the end of July. Largely left to his own devices by team management, Hunt enjoyed his second year as a professional, winning 10 races.
1997 Tour de l?Avenir
Stages 3 & 9 A great Tour de l?Avenir for the Brits as David Millar wins the prologue in Brittany. Hunt, riding for a Great Britain team, wins stage three in Poitiers and again on the last day in Auch.
1998 Manacor-Manacor
This was the third stage of the Tour of Majorca and Hunt out-sprinted Robbie McEwen. Peter Van Petegem, Laurent Jalabert, Erik Zabel and a then virtually-unknown Oscar Freire were also in the top 10.
2000 Australian Road Race Championship
Foreign riders were allowed to ride as a guest in some ?open? national championship events. Hunt and Jamie Drew attacked on the last lap and the British rider took the sprint. Drew had the consolation of the national title and the jersey.
2000 Tour of the Mediterranean
Stage 2 An unbelievably close finish saw Hunt beat Mario Cipollini in Cavaillon. Hunt was canny in the sprint, taking a short line round a roundabout, together with some other riders, to get back into contention.
2001 British Road Race Championship
Hunt must like Wales ? his second national title came ahead of Rob Hayles and John Tanner in Cardiff.
2001 Circuit Franco-Belge
Stage 4 The end-of-season stage race on the France-Belgium border saw Hunt win the final stage after taking second and a third earlier in the two previous days.
2002 GP Ouest France Plouay
Undoubtedly Hunt?s biggest win of his career. He got past FdJeux?s Baden Cooke and Stuart O?Grady in the final metres. It was the last year of his contract with Big Mat and should have earned him a bigger, better deal. However, his reward was a contract with the MBK-Oktos team in Saint-Quentin, ironically where he had spent his time racing as an amateur. Hunt was later to remark: ?You never know what?s going to happen in cycling ? my biggest win got me my smallest contract.?
2005 Tour de la Region Wallonne
Stage 2 After just a single win ? a stage of the Tour of Picardie ? in 2003 and 2004, Hunt won a biggie again.
2007 GP D?Ouverture La Marseillaise
Last season Hunt confirmed his reputation as a fast starter ? a lot of his wins come early in the season ? by taking the first race on the European calendar. Trouble was already brewing for the sponsor, though. Gambling advertising is restricted in France and Unibet.com, as an internet bookmaker, had to race in a special version of their jersey, with a big question mark on the chest. There was no question about Hunt?s sprint finish though as he eased ahead to win by three seconds.