José Joaquín Rojas undergoes successful heart procedure
Spanish Movistar sprinter José Joaquín Rojas has operation to rectify a heart condition discovered during pre-season medical checks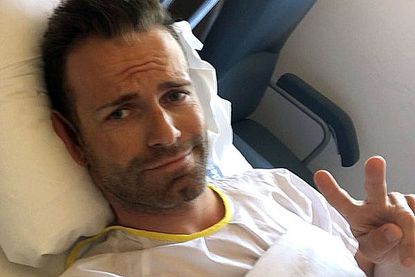 (Image credit: José Joaquín Rojas/Twitter)
Spanish sprinter José Joaquín Rojas has posted photographs of himself recovering in hospital after an operation to rectify a heart condition on Wednesday.
Rojas discovered he had the condition during the Movistar team pre-season medical checks, and it was confirmed that he had Wolff-Parkinson-White syndrome. The condition can lead to tachycardia - an abnormally fast heart rate for periods of time.
Rojas visited the Hospital de Navarra in Pamplona for the procedure, which he underwent on Wednesday morning, tweeting "Everything went great!", and thanked his fans for their support.
"It was detected during an electrocardiogram and ultrasound of the heart," Rojas said when his diagnosis was first revealed on Tuesday. "It's something that poses no problem to people with a normal life, but it can affect elite athletes."
Rojas is expected to return home later on Wednesday, and resume training soon after.
The 30-year-old from Murcia is a regular feature of top ten positions in sprint stages of major races, but wins are more elusive. His sole victory in 2015 was the opening stage of the Tour of Qatar. He has previously won stages of the Vuelta a Castilla y León, Tour of the Basque Country and Volta a Catalunya, and he was Spanish national road race champion in 2011.
Thank you for reading 5 articles this month* Join now for unlimited access
Enjoy your first month for just £1 / $1 / €1
*Read 5 free articles per month without a subscription
Join now for unlimited access
Try first month for just £1 / $1 / €1