JUNIOR REPORTER DISHES DIRT ON JUNIOR TOUR OF WALES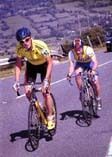 The Junior Tour of Wales is a prestigious five-stage, three-day event held annually on the August Bank holiday weekend. It attracts some of the top international juniors, with teams from as far afield as the Netherlands and Belgium.
British past finishers who have gone onto professional racing contracts include David Millar, Geraint Thomas, Charles Wegelius and Mark Cavendish. The 27th running of this event proved to be as well-organised, thrilling and hard-fought as past editions have been and it is easy to see why the race has a reputation for being one of the hardest Junior stage races in Europe.
Stage one was a 6.2 mile time trial ending with a one?mile climb up the five per cent Tumble Mountain. Peter Kennaugh (Isle of Man A Team) ? fresh from his Junior RR Championship win ? completed the course in a staggering 12:35, narrowly beating Liverpool Mercury-Dolan?s Andrew Griffiths by just one second. Third place went to Erick Rowsell of the South East England team in 12:52.
Stage two, a 46.5?mile Road Race featuring a finish atop Llangynidr Mountain started in the afternoon of the same day. An incredibly fast stage was had over rolling terrain (averages for the first hour were quoted at 27mph). Peter Kennaugh showed his top-level class once more to break away for the stage win. Erick Rowsell also continued his good form from the morning, coming second. Johhny McEvoy, of Kinesis UK, took a well deserved third place. The group split significantly over the horrific Llangynidr Mt, and the big hitters really pushed the pace over the top to unbelievable climbing speeds.
In previous editions, stage three has always been regarded as one of the harder and more critical stages for those seeking victory and this year proved no different. A 45-minute plus three laps criterium round the 1.75 mile circuit at Brynbach Park, with a nasty climb a few hundred metres into each lap, followed by a steep descent which serves to separate the group very quickly. Luke Rowe (Wales) and Ben Plain (Glendene) pulled off a terrific breakaway that lasted from lap one until the end of the race. They took the majority of sprint points between them, finishing over a minute ahead of Peter Kennaugh (who finished third, in 1:03.34) and the group of 30 riders with him. The majority of riders were pulled from the race earlier due to safety concerns regarding being overlapped.
A hilly 46?mile road stage for stage four that same afternoon saw Johnny McEvoy, Erick Rowsell and Rhys Lloyd pull away from the main group around half way through the stage. Peter Kennaugh punctured at an incredibly bad time, but struggled back in brilliant and determined fashion to minimize the damage caused, taking fourth place in the process ?incredibly, only 1:30 down on winner Johnny McEvoy.
Day thre, and the final stage, number five, saw the first real signs of race fatigue as the group indulged in a slightly slower (and entirely warranted) warm-up. After 16 miles, however, the only real break of the day formed containing 8 riders, all of whom by now familiar to us as race contenders. Andrew Griffiths later broke away from this group to amass a considerable time gap, but was caught near the foot of the dreaded Tumble Mt. The top three- Rowsell, McEvoy and Kennaugh- broke away from the group over the course of the climb with Kennaugh desperately trying to shake off his opponents in order to make up time. He won the stage, yet only made up two seconds on both Erick Rowsell and Johnny McEvoy.
The Tour of Wales lived up to its reputation as being one of the finest, most professionally-run Junior Racing Events in Great Britain - if not Europe. The organisation behind the event deserve recognition for putting on an incredibly smoothly-run event, and the riders and teams - despite their highly competitive nature - performed at all times in fine example of the spirit of sportsmanship. Despite being mentally and physically shattered, these young riders rode beyond their limits to produce a great sporting spectacle that gives me great hope for the future of road racing - both in the British Isles and European Union.
Thank you for reading 20 articles this month* Join now for unlimited access
Enjoy your first month for just £1 / $1 / €1
*Read 5 free articles per month without a subscription
Join now for unlimited access
Try first month for just £1 / $1 / €1