Keirin London hits Herne Hill this weekend
Free event follows on from successful Manchester meeting in June.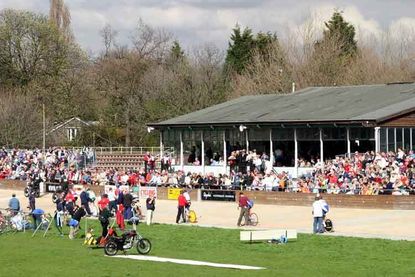 By Chris Marshall-Bell
Herne Hill Velodrome is the setting this Saturday (August 2) for a dedicated keirin festival which promises speed and excitement.
Keirin London 2014 returns for the third successive year with an afternoon of fast action on the track taking place across three categories.
The Rollapaluza men's race will see pre-race favourites Jody Cundy and Matt Rotherham contest 40 riders from across the UK, the Netherlands, Latvia, Czech Republic and Uganda in the qualifying rounds before the final.
Damian Zielinski won the men's race ahead of Rotherham in Manchester in June but the Polish racer has not entered this weekend.
The Bon Velo women's race is expected to be battled out between 18 of the country's latest youth sprinters and Rachel James. James came second behind Sophie Capewell at the inaugural Manchester event.
The third race is for the 'all-comers' where the speed may not be as ferocious but the action will be as captivating.
Spectators can watch for free from 2.30pm and can also test their own pace on the Rollapaluza rigs.
Thank you for reading 20 articles this month* Join now for unlimited access
Enjoy your first month for just £1 / $1 / €1
*Read 5 free articles per month without a subscription
Join now for unlimited access
Try first month for just £1 / $1 / €1