Kris Boeckmans almost died SIX times after Vuelta a España crash
The Lotto-Soudal rider opened up about the aftermath of his horrific crash at Vuelta a Espana, which saw him put into an induced coma for more than a week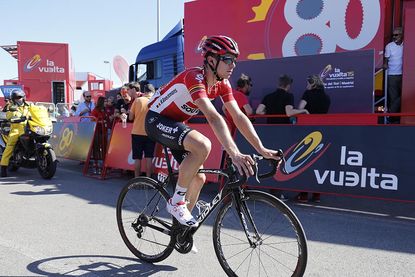 (Image credit: Yuzuru SUNADA)
Kris Boeckmans suffered what may well be the worst crash of the 2015 season on stage eight of this year's Vuelta, requiring eight hours of facial surgery on a broken nose and jawbone, as well as treatment for concussion, three broken ribs and bleeding in his lungs.
Boeckmans was drinking from a bidon about 50km from the stage finish when he hit a pothole and was flung over his handlebars. He was taken to hospital in Murcia, where he was put into an induced coma because of the damage to his lungs.
The Belgian rider recently spoke about his rehabilitation, revealing just how serious his injuries were.
"I almost died six times," he told Het Nieuwsblad. "The first time was at the fall itself, when I swallowed my tongue and was bleeding in my lungs, Instead of taking me to a local hospital they instead took me to a university hospital.
"Next time, when I was in need of oxygen and there was exactly the unit that I needed - there were only nine of them throughout Spain - and again when the device accidentally switched off again. Another half a day longer and I would have had blood clots in my veins. It does make you think."
He added: "The last few days I have cycled two and a half hours and actually an hour with the rest of the team. And I can do it without being completely exhausted for the rest of the day."
>>> Kris Boeckmans: I was so bad that on a scale of 1 to 10 I've now almost reached zero
His facial injuries were so bad that he was unable to eat solid food for some time, losing a lot of weight in the process.
"I lost 15 kg. But now I have gained 17kg back. It has been the hardest," he said.
"I had to drink shakes, eat soups and astronaut meals and I had to consume 4,500 calories a day - double that of a normal human being."
"The question is whether everything will be as before. Frankly, I do not know. But I have already made so much progress, it is a good sign."
"Initially there was talk of a comeback to competition next December. Then it was moved to the Belgian championship in June, which seemed realistic. Now they say May."
Thank you for reading 20 articles this month* Join now for unlimited access
Enjoy your first month for just £1 / $1 / €1
*Read 5 free articles per month without a subscription
Join now for unlimited access
Try first month for just £1 / $1 / €1