Kris Boeckmans undergoes eight-hour facial surgery after Vuelta crash
Kris Boeckmans is out of the medically-enduced coma and back in Belgium, but faces weeks of recovery after surgery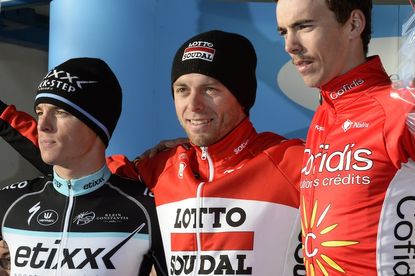 (Image credit: Watson)
Belgian Kris Boeckmans is out of danger after a Vuelta a España crash that put him in a coma three weeks ago, but is undergoing eight-hour facial surgery today that will prevent him from speaking for two weeks.
Boeckmans, 28, fell with Tejay van Garderen and around 30 others in the crash-laden stage eight to Murcia. He suffered severe facial trauma and was put in a medically-induced coma. Doctors brought him out of the coma last week and transported him from Spain to Belgium, in Genk, to a hospital with the country's best facial surgeons.
"After the surgery, they will have to block his face so that he can't speak or eat normally for two weeks to allow him time to recover," the team's spokesman, Arne Houtekier told Cycling Weekly.
"Everything is broken in his face, his nose, his jawbone, teeth... Everything. He has to restart. The most important thing, though, is that he is out of danger."
>>> Boeckmans brought out of induced coma after Vuelta crash
Back in Belgium, doctors re-examined his head and vital organs to make sure their Spanish colleagues in Murcia missed nothing.
Houtekier added, "The first thing is that he is out of danger, the second thing is to come back as a man, and then we will see if he can come back as a cyclist. We hope so, of course, and the doctors think it is possible. Honestly, it's too early to think about it."
Yesterday, the first sign that Boeckmans returned to the cycling world came via a Twitter message.
"Hello world!" he wrote. "Thank you for all the great messages and support. One of my hardest rides ever but I made it! #NeverGiveUp"
Doctors allow visitors for 30 minutes at a time. Mostly his girlfriend and parents, who were by his side in Murcia, checking on their favourite cyclist.
Boeckmans, winner of the Tour de Picardie and World Ports Classics this year, does not remember what happened in stage eight. However, he explained that he is thankful to crash where he did, near a major city with easy transport to the hospital.
"Had I been in the mountains," he said, "there is a good chance I would not be here today."
He complimented the doctors in Murcia, but is relieved to be back 'home' in Flanders speaking his native Dutch language.
The next steps are a lengthy facial surgery, two weeks recovery and further examinations to see if a second surgical procedure is required. If all goes according to plan, he will return home near Antwerp in October and as doctors are predicting, ride again.
Thank you for reading 20 articles this month* Join now for unlimited access
Enjoy your first month for just £1 / $1 / €1
*Read 5 free articles per month without a subscription
Join now for unlimited access
Try first month for just £1 / $1 / €1