KUURNE-BRUSSELS-KUURNE IN PICTURES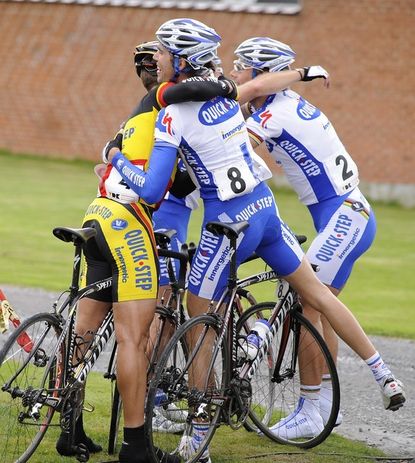 (Image credit: LUC CLAESSEN)
Whatever was said by Quick Step?s management over dinner following the team?s dismal performance in Saturday?s Het Volk obviously had the desired effect.
The Belgian super squad missed the vital move on Saturday, but made amends in spectacular style in Sunday?s Kuurne-Brussels-Kuurne.
Having been outfoxed by Philippe Gilbert despite initially looking in control, they were not prepared to be made to look silly a second day running.
They took charge on the Oude Kwaremont, forcing a lead group of 11 clear ? five of them Quick Step riders. Later on Quick Step found they had all seven of their remaining men ? Paolo Bettini packed after a crash ? in the front group of 35.
It was Quick Step?s to blow and they made no mistake, with Dutchman Steven De Jongh taking his second win in the race.
In stark contrast to Het Volk ? where the first Quick Step man was 16th ? here they took first and fourth place and had a total of seven riders in the first 21.
Roger Hammond (High Road) was 51st, safely in the peloton that was 7-38 down.
The early break featured Britain?s Jeremy Hunt ? pictured here in the green and white of his Crédit Agricole team. He found the pace too hot on the climb of La Houpe and eventually finished at the back of the peloton in 136th place
World champion Paolo Bettini got tangled up in an early crash
Bettini was not badly injured ? unlike some ? but he abandoned the race
Not everyone was so lucky. One of the riders on the French Roubaix squad takes stock after hitting the deck
Quick Step weren?t about to mess up for a second day running and they took complete control of the race on the Oude Kwaremont. Here Tom Boonen drives the race-winning move safe in the knowledge he has plenty of team-mates with him
With so many cards to play, the race was Quick Step?s to lose. In the end, Steven De Jongh was the one to profit, jumping after Rabobank?s Sebastian Langeveld and winning the sprint comfortably
Matt Goss of CSC takes the sprint for third while the Quick Step boys celebrate De Jongh?s win. Boonen loves to celebrate his team-mate?s wins as if they were his own and behind Devolder and Steegmans salute too
Perhaps relieved they wouldn?t be in for another rollicking from the management and another dinner taken in gloomy silence, the Quick Step boys enjoy their victory moment
Kuurne-Brussels-Kuurne 2008: Langeveld (second), De Jongh (first) and Goss (third) on the podium
Thank you for reading 5 articles this month* Join now for unlimited access
Enjoy your first month for just £1 / $1 / €1
*Read 5 free articles per month without a subscription
Join now for unlimited access
Try first month for just £1 / $1 / €1