Lance Armstrong returns to the Tour de France route for charity ride
Geoff Thomas will ride the route of the Tour de France one day ahead of the peloton this summer and has persuaded Lance Armstrong to join him for a couple of stages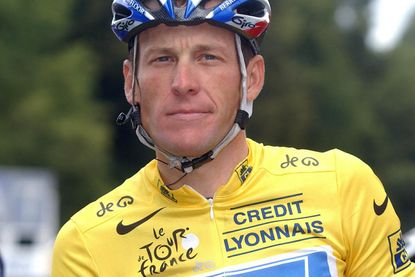 (Image credit: Graham Watson)
Lance Armstrong will be back on the roads of the Tour de France this summer as he joins former England footballer Geoff Thomas on a ride to raise money for a cancer charity.
Thomas will attempt to ride the entire route of the 2015 Tour a day ahead of the professional peloton, and has persuaded the Texan to join him on several stages during the three-week challenge in aid of Cure Leukaemia.
The former Crystal Palace captain flew to meet Armstrong at his home in Texas to discuss the plan to get the disgraced cyclist involved in the ride, which will raise money for leukaemia sufferers – the cancer that Thomas overcame a decade ago.
But Thomas insists it was he who came up with the plan to invite Armstrong on the ride, rather than the Texan using the challenge to repair his reputation.
"If anything I'm using Lance here," Thomas told the Daily Mail. "I've pursued him. I've flown to Texas to see him. I've persuaded him to get involved again.
"I believe bringing him back into the world of fighting cancer can only be good. And if I'm wrong at least I've tried. But I'm not sticking my neck on the line here on a whim. I've been thinking about this for a year."
>>> Lance Armstrong praises CIRC anti-doping report
Having beaten cancer ten years ago, Thomas set out in 2005 to ride the entire three weeks of the Tour ahead of the peloton, completing the 2,200 miles and raising £250,000 for the hospital that treated him.
Armstrong himself was a committed fundraiser for his Livestrong charity until his doping confession in 2012.
Thomas said: "As soon as you talk to him about cancer it's obvious he wants to get back and help. I sensed a lot of pain there, that the door was closed on him by Livestrong. Because that's where he wants to get back to.
"But I have a vehicle that can get him involved again now. And after what he did for me 12 years ago I'd like to do that. I'm not a religious person but I believe in right and wrong and I also believe in forgiveness."
>>> Lance Armstrong was made a scapegoat, says Pat McQuaid
Armstrong's involvement has, understandably, been meet with a mixed reception, with Betsy Andreu questioning how Thomas can forgive the former US Postal rider for his doping past.
"How Geoff Thomas can forgive Lance for what he's done to other people is beyond me," she wrote on Facebook. "The egg on the face will be hard to wipe off."
Thank you for reading 20 articles this month* Join now for unlimited access
Enjoy your first month for just £1 / $1 / €1
*Read 5 free articles per month without a subscription
Join now for unlimited access
Try first month for just £1 / $1 / €1