The latest kit from Eurobike: part two
Everyone at the German trade show is debating the merits of road disc brake options. Plus new shoes, camo colour schemes and aero stylings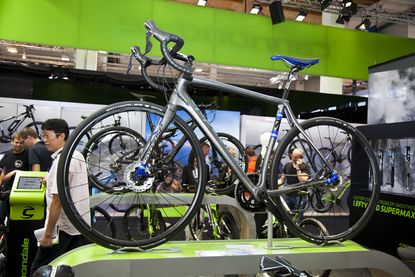 (Image credit: Chris Catchpole)
Everywhere you turn at the Eurobike show, you see disc brakes attached to road bikes. They are happening regardless of whether the UCI approves them for road racing or not.
All the arguments against them are nonsense, a representative from Cannondale told us. The American company are going full steam ahead with disc brake models of their road bikes.
What is less clear is what setup is going to become standard. What discs to use? Do you stick with conventional quick release dropouts? Or do you go for bolt through axles for greater security? What size? And do you do the same for the back wheel as the front?
Focus have developed their own through axle system called RAT that utilises a t-shaped pin rather than screw threads. It's almost as quick to undo as a conventional road wheel skewer.
The German bike company are committed with this one. The question is whether they'll un-license the system in hope of component manufacturers adopting it and RAT becoming industry standard.
Others companies are biding their time completely on the disc brake front, waiting to see what setups gets adopted and what becomes obsolete.
The bike industry works like that: companies look at what others are up to and keep an ear to the ground for insider opinion.
Polaris made a see through bike box just as a marketing tool for their Eurobike stand. It helps demonstrate how neatly a bike packs away for travel. But they've had so many questions from interested dealers and curious press, they're now considering bringing it into production.
Elsewhere at Eurobike we took a look at Shimano's new Metrea urban groupset and their flagship SH-R321 road shoe, Castelli's reengineered 'Free' aero race short, new prototypes from Bont and some characteristically garish Cipollini kit.
Thank you for reading 5 articles this month* Join now for unlimited access
Enjoy your first month for just £1 / $1 / €1
*Read 5 free articles per month without a subscription
Join now for unlimited access
Try first month for just £1 / $1 / €1