Launches today: Bike Pure's Support a Future Champion Scheme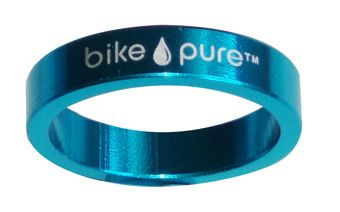 If you've wondered what those turquoise-coloured bands are on the wrists of professional cyclists like Team Sky's Russell Downing and Cérvelo's Dan Lloyd among others, they signify membership of the Bike Pure organisation, set up in 2008 to champion fair play, honour and a drug-free cycling world.
Bike Pure's latest initiative is the Support a Future Champion Scheme launched today to enable bike shops worldwide to support their local riders or teams by selling the distinctive blue anodised Bike Pure headset spacers to anyone who wishes to show their support.
The spacers are made by Token Products and provided free of charge with the shop only paying carriage. The stockist then sells them to raise as much cash as possible which goes towards the store's nominated local rider or team. These riders and teams become role models for Bike Pure, committed to the values of honesty and integrity.
The Support a Future Champion Scheme builds a relationship between bike shops and emerging local champions, which in turn encourages cycling communities to support their local independent cycle stores to build grassroots support for ethical cycling.
The spacers are a visible 'currency of support', helping to nurture local talent through financial support. Participating cyclists cannot self nominate and participation should be agreed between the bike shop and a local cycling club or coach. The individual will be deserving and uphold Bike Pure's philosophy of honour and sportsmanship.
Interested bike shops can check out the Bike Pure link here or email bikepure@yahoo.com
Thank you for reading 20 articles this month* Join now for unlimited access
Enjoy your first month for just £1 / $1 / €1
*Read 5 free articles per month without a subscription
Join now for unlimited access
Try first month for just £1 / $1 / €1