Laura Trott takes six out of six wins at Revolution Series in London
Laura Trott, Marianne Vos, Ben Swift and Alex Dowsett all in action in London velodrome at Revolution Series opener. Photos by Luke Webber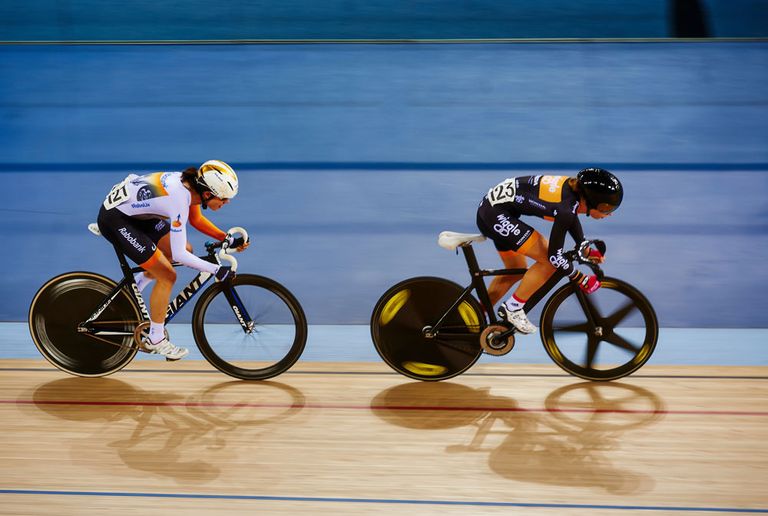 (Image credit: Luke Webber)
Olympic track champion Laura Trott took another clean sweep of victories at the opening round of the 2014-15 Revolution Track Series in Lee Valley Velopark, London, over the weekend.
Trott won all six of the Ominium events, despite facing stiff opposition, not least from multi-world champion Marianne Vos.
In the Elite Championship, the German Maloja Pushbikers team topped the table at the end of the event despite strong riding from British stars Ben Swift (Sky) and Alex Dowsett (Movistar, but racing for the Telegraph All-Stars team).
Maloja Pushbikers' Christian Grasmann and Marcel Kalz won the Madison time trial event and placed highly in other disciplines. Swift won the scratch race and was runner-up behind Wim Stroetinga in the points race.
Swift was also in action in the Revolution Longest Lap event, also known as the Marymoor Crawl. However, it was Adam Blythe who track-standed and then sprinted to victory in the unique event.
Highlights of the round will be shown on Channel 4 on Saturday. November 1, at 7am. The next round will take place on November 22 in Manchester. For more information and tickets, visit the Revolution Series website.

Revolution Elite Championship Standings after round one (London)
1. Maloja Pushbikers 51 points
2. Telegraph All Stars 45
3. Team Ignitr 37
4. Team Sky 36
5. Team Polypipe 33
6. Orica-GreenEdge 32
7. Team Scotland 31
8. Madison-Genesis 29
9. Rapha Condor JLT 26
10. Rigmar Racers 26
11. NFTO 26
12. Team USN 17
More on the Revolution Series
Adam Blythe beats Ben Swift in the uniquely slow mass-start bike race at the opening round of the Revolution Series
Alex Dowsett joins Ben Swift, Ian Stannard and Adam Blythe at Revolution Series opening round in London, October 24-25