Laurent Fignon loses his battle with cancer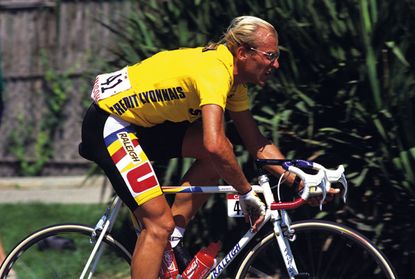 Laurent Fignon, winner of the Tour de France in 1983 and 1984, has died from cancer aged 50, according to the French television station TF1.
Fignon was born in Paris in 1960 and began cycling in his teens. He won the first race he rode, in 1976.
He turned professional for the Renault-Elf-Gitane team in 1982 and quickly began winning races. The following year, aged only 23, he won the Tour de France at the first attempt. In 1984 he won the Tour again, taking five stage wins in the process.
Injury and illness blighted the next few years, although he still managed to win some big races - including Flèche Wallonne in 1986, a stage of the Tour de France at La Plagne in the Alps in 1987 and Milan-San Remo in 1988 and 1989.
It was in 1989 that he again reached the summit of the sport, winning the Giro d'Italia - a race he had been controversially beaten at in 1984 when the organisers cancelled a big mountain stage because of snow, which favoured his rival Francesco Moser. It was later revealed that the roads were clear.
The 1989 Tour was one of the greatest of all-time and saw Fignon locked in a battle with his former team-mate Greg Lemond. They took turns to wear the yellow jersey and it all came down to a time trial in Paris on the final day. Fignon led by 50 seconds in the morning but Lemond, using the revolutionary triathlon-style handlebars that are now common, beat him to clinch the Tour by eight seconds - the narrowest margin ever.
Fignon always objected to being thought of as the man who lost the Tour by eight seconds and would remind people he had won it twice.
He retired in 1993, after riding for the Italian Gatorade team for the final two seasons of his career.
Fignon bought the company that organised Paris-Nice but eventually had to sell it to ASO because of financial difficulties.
In recent years he was an acerbic but witty and analytical pundit on French television.
Earlier this year he wrote his autobiography, We Were Young and Carefree.
Related links
Tour de France video archive: 1989, Lemond and Fignon
1989: The greatest Tour de France ever - comprehensive list of articles and stage reports from the '89 Tour
Thank you for reading 20 articles this month* Join now for unlimited access
Enjoy your first month for just £1 / $1 / €1
*Read 5 free articles per month without a subscription
Join now for unlimited access
Try first month for just £1 / $1 / €1