What we like about the Great Britain World Championships team selection
... and a few things we don't like, too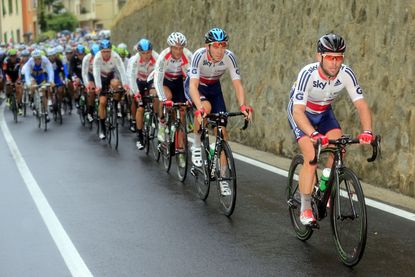 (Image credit: Watson)
The Great Britain team for the 2014 UCI Road World Championships has been announced, and we've spent a valuable few seconds, perhaps even minutes, mulling over the possibilities for this red, white and blue line-up.
Here's what we like the look of...
Lizzie Armitstead and Bradley Wiggins
Britain's top two hopes for elite medals at the 2014 Worlds are clear cut. Armitstead is without doubt one of the world's best female road riders, and Wiggins is similarly up there in the men's time trial. Unfortunately, both riders also have a clear-cut nemesis: Dutchwoman Marianne Vos for Armitstead and German Tony Martin for Wiggins. So the question is, what colour will their medals be?
David Millar as men's road captain
Millar is ideally positioned to serve as leader-on-the-road in Spain, there are few that have experienced the entire gamut of highs and lows that have affected the professional peloton over the best part of two decades. He knows his way around the bunch, and can predict how a race is going to unfold. He may not now have the staying power to see out the race's 254.8km all the way to the bitter end, but you know that you're going to see him at the front of the bunch at some point, leading by example. It seems the perfect way to end his up-down-up relationship with the national team.
Dave Brailsford as manager
Brailsford is back - did he ever go away? After resigning from his post on the Great Britain team in April to concentrate on Sky, Brailsford has been temporarily drafted back in to call the shots in Ponferrada while Shane Sutton looks after riders at the British track championships. With countless Olympic medals and success at the 2012 and 2013 Tours de France, Brailsford has established himself as one of Britain's greatest coaches, irrespective of the sport. However, with winless outings for Sky in all three 2014 Grand Tours, Brailsford is set for a poor year by his high standards. Gold in Spain will help ease fears that his mojo is on the wane.
Both Simon and Adam Yates in the elite men's road race
Twenty-two-year-old twins Simon and Adam Yates make the elite ranks due to their professional contracts with Orica-GreenEdge this season. The possibility of the two of them working together over a hilly course is going to be something for British fans to watch out for, and for rivals to be wary of.
No doubling up
Sensibly, there's no dilution in the elite men's line-ups this year, with Olympic time trial champion Bradley Wiggins and Commonwealth time trial champion Alex Dowsett solely concentrating on the race against the clock, leaving the road team with fresh legs all round.
Under-23 and Junior teams
A strong selection of riders has been fielded for under-23 men and both junior women and men this year. Can any of them follow in former junior world champion Lucy Garner's footsteps? There are some real possibilities.
And the things we don't like…
No women in the elite time trial
With several likely candidates - notably Joanna Rowsell - on duty at the national track championships as the all-important Olympic cycle begins, GB fields not a single rider in the women's time trial discipline. The official reason is that there is no strong candidate available for a medal, but whatever happened to giving someone the opportunity to gain some experience?
Lack of clear leader in men's road race
You can't deny the strength of Great Britain's men's road team on paper, but there is simply no clear leader on a hilly course that falls between the talents of the selected riders. Ben Swift looks the most likely candidate, not least after his third place at Milan-San Remo but he fell short in last week's Tour of Britain. Commonwealth Games road race champion Geraint Thomas would also be a good pick, but the Welshman has endured a long and tough season and may be too fatigued to contest with the best in the world. Chris Froome and Peter Kennaugh come into the race straight from the Vuelta a Espana and could also be in the final mix, but perhaps lack the punch needed against rivals to score a medal.
Armitstead has lack of experienced support - no Pooley or Laws
Women's World Cup winner and Commonwealth Games champion Lizzie Armitstead is Marianne Vos's most convincing challenger. However, not only is unstoppable Vos the woman to beat, but her Dutch team is also super-strong. Britain's elite women's line-up lacks the dependable firepower of the recently-retired Emma Pooley, and the inexplicable non-selection of Sharon Laws - particularly as she will be in Spain for the team time trial championship. Armitstead will be supported by a relatively young and inexperienced team, and there is a question mark over how many will still be with her at even the half-way point.
More on the World Championships...
Full list of Great Britain riders announced for this year's UCI Road World Championships in Spain, September 21-28
Thank you for reading 20 articles this month* Join now for unlimited access
Enjoy your first month for just £1 / $1 / €1
*Read 5 free articles per month without a subscription
Join now for unlimited access
Try first month for just £1 / $1 / €1