Trek-Drops releases special edition can for campaign aimed at reducing single use plastic
Free Trek-Drops themed cans are available at the fan zone at La Course as part of 'Every Can Counts' recycling campaign, with more up for grabs at Prudential Ride London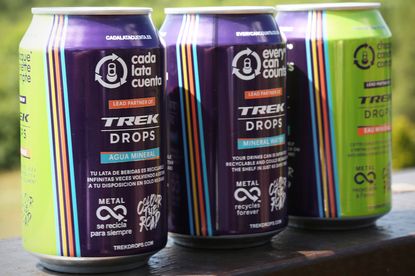 (Image credit: Bellyflop.tv)
Every Can Counts, the lead recycling sponsor of Trek-Drops professional women's team, has released team-branded can to raise awareness of the importance of recycling aluminium drinks cans.
Filled with mineral water, the Trek-Drop cans are aimed at helping to reduce single use plastic as well as drawing attention to the fact that every aspect of an aluminium can be endlessly be recycled if disposed of in the correct way.
Tom Varney, team director at Trek-Drops said: "The cans will give us another way to engage directly with fans and spread the message of the importance of recycling their cans and their choices of packaging when they are in retail environments. As a team we're looking forward to using the cans and it allows us to reduce the amount of plastic that we use when on the go."
Every Can Counts, alongside its French counterpart 'Chaque Canette Compte', will be encouraging people to cycle and recycle at La Course by Le Tour de France by taking part in their Recycling Game where people can race against each other whilst learning about the recycling process.
The Every Can Counts team will also be at Prudential Ride London on Saturday July 28 where visitors will also be able to get their hands on the limited edition drink cans, as well as chances to win the limited edition product on the Every Can Counts social media channels.
Thank you for reading 20 articles this month* Join now for unlimited access
Enjoy your first month for just £1 / $1 / €1
*Read 5 free articles per month without a subscription
Join now for unlimited access
Try first month for just £1 / $1 / €1