London pedestrians lift bus to free trapped unicyclist (video)
The incident took place in Walthamstow at around 6pm on the evening of May 28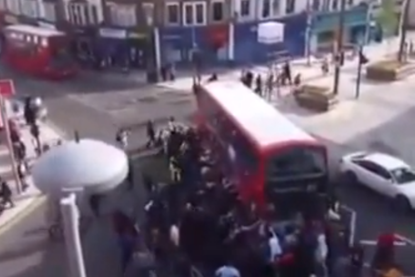 A large crowd of pedestrians managed to move a bus several feet across a London road in an effort to save the life of a man caught underneath it.
The man had been struck by the number 212 bus, which crushed his legs and unicycle under its wheel.
The incident took place in Walthamstow at around 6pm on May 28, and eyewitness Bushra Khalid told the London Evening Standard: "We were all traumatised. We heard the poor man scream, 'Oh shit' as his legs were crushed under the wheel, his dreadlocks were trapped too and his face was full of agony. Everyone was screaming and we were crying."
http://www.youtube.com/watch?v=DtxhCFg_4kY
"There were people of all different races and cultures and together they helped lift the bus off," she added. "We just hope he is ok."
>>>Manchester cyclist hits bus after brakes fail at traffic lights
Another witness, Kyra Sam, added: "I'm really amazed at the strength of Walthamstow - no-one hesitated to push the bus off, I was in shock."
A spokesman for the Metropolitan Police confirmed that the unicyclist had been taken to an east London hospital, and that his condition was believed to be serious but stable.
Video from Zafer Sari, on YouTube
Thank you for reading 20 articles this month* Join now for unlimited access
Enjoy your first month for just £1 / $1 / €1
*Read 5 free articles per month without a subscription
Join now for unlimited access
Try first month for just £1 / $1 / €1