Make-A-Wish Foundation conjures up bikes for two children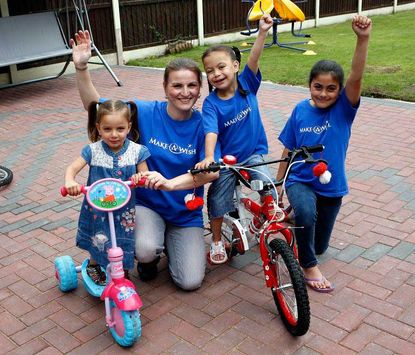 TWO youngsters battling illness are the happy recipients of new bikes provided by Make-A-Wish Foundation UK, which grants "magical wishes" to children and young people fighting life-threatening illnesses.
Cardiff teenager James Clatworthy, 14, who is fighting Acute Myeloid Leukaemia, is now the proud owner of a Norco Stryk mountain bike. His aim is to ride with his friends and get fit after his transplant.
And Hanya Sajad, aged five, from Stoke on Trent, who received a heart transplant aged 18 months, is now the happy owner of a High School Musical bike which she rides around her garden which has been especially resurfaced to enable her to do so!
Make-A-Wish made James' day when they took him down to Don Skene Cycling to choose his own bike, a top of the range Norco Stryk.
He also chose a selection of accessories. The fun continued with a celebratory dinner with his family and three friends, at TGI Friday's, in Cardiff's St David's Shopping Centre.
Posing proudly with his new bike a few weeks later, James said: "I'm really chuffed with the bike. It means I can go out cycling with my friends and family which will really help me to get fit after my transplant."
James' Mum Karen added: "James is thrilled with the bike and really enjoyed his whole day.
Hanya, who has Hypoplastic Left Heart Syndrome - a rare defect in which the left side of the heart is underdeveloped - has often felt too unwell to visit the park and cycle with her friends.
Hanya's Mum Lisa McLane said: "This wish has meant everything to us.
Make-A-Wish is a fantastic charity doing amazing things for the most deserving of children. Thank you so much."
There are currently 20,000 children and young people in the UK fighting a life-threatening illness and this year alone 1,000 children will be referred to Make-A-Wish to have their wish granted. To grant all these, the charity needs to raise at least
£5 million in 2010.
To refer a child for a special wish or sponsor a wish like Hanya's, please contact Make-A-Wish on 01276 40 50 60 or visit www.make-a-wish.org.uk
Thank you for reading 5 articles this month* Join now for unlimited access
Enjoy your first month for just £1 / $1 / €1
*Read 5 free articles per month without a subscription
Join now for unlimited access
Try first month for just £1 / $1 / €1
Keith Bingham joined the Cycling Weekly team in the summer of 1971, and retired in 2011. During his time, he covered numerous Tours de France, Milk Races and everything in-between. He was well known for his long-running 'Bikewatch' column, and played a pivotal role in fighting for the future of once at-threat cycling venues such as Hog Hill and Herne Hill Velodrome.