MARK CAVENDISH CONTINUES TO FIGHT ILLNESS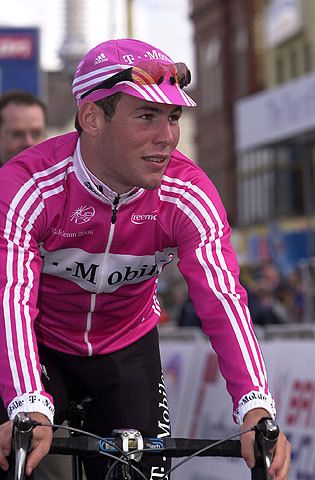 Mark Cavendish finished off the back of the bunch at the GP Pino Cerami today as he continues to battle health problems. After a great start to his road season at the Etoile de Besseges, Cavendish has since been struggling to beat illness while continuing to race for T-Mobile, and in Pino Cerami he wasn?t able to hold on to the bunch of 50 on the final finishing circuit.
The 176km race, that is centred around Colfontaine in southern Belgium, was won by Luca Solari of team L.P.R.
Cavendish?s spring campaign, where he was meant to learn the ropes in the races of northern Europe, has been a constant battle with his health, seeing him through three courses of antibiotics, ?I?m not improving because I?m just trying to recover in between the races, so I can?t train,? he explained.
Cavendish rode The Three days of De Panne last week (although he didn?t qualify for the final time trial) and both the E3 Prijs and GP Waregem (two weeks ago) where he climbed off after 140 kilometres.
Cavendish now has two more races on the continent, the Scheldeprijs and GP de Denain, before four weeks of training, that he hopes will see him return to the kind of form he expected to be in. He heads out to Italy and will stay near British Cycling?s Olympic Academy base in Quarrata, after one final race of the spring, the Rutland Melton CiClE classic on April 29.
Cavendish will ride the Premier Calendar event in Isle of Man colours.
Thank you for reading 5 articles this month* Join now for unlimited access
Enjoy your first month for just £1 / $1 / €1
*Read 5 free articles per month without a subscription
Join now for unlimited access
Try first month for just £1 / $1 / €1