Mat Dibb's Isle of Man TT electric bike record attempt
Chronic kidney disease sufferer Mat Dibb is setting out to set a new world record for the Isle of Man TT circuit on an electric bike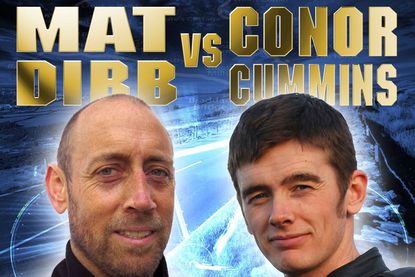 Earlier this year Cycling Weekly featured stories about Mat Dibb, a keen cyclist who suffers from focal segmental glomerulosclerosis — chronic kidney disease. Since we last spoke to him, Mat's kidney function has reduced further. But that's not the most important thing on his mind right now, because this Sunday, September 14, Mat will attempt to set a new Guinness World Record for the Isle of Man TT mountain course on an electric bicycle.
"Due to my reduced energy levels because of my worsening kidney function, I'm riding entirely electric bikes now," Mat says. "I've been out to the Isle of Man in the last couple of years to combine two of my main passions which are motorsport and cycling. But while I've been over I've noticed that although the island gets invaded by something like 50,000 motorcyclists over the TT fortnight, riding electric bicycles isn't something that is done very often there."
"I researched and spoke to Guinness World Records and it turns out there isn't a category for e-bikes on the TT course. But with Guinness it was very hard to agree with them a specific category — they couldn't understand why it didn't fit in with the TT Zero category, but that is for electric motorcycles, where they're lapping at 120mph. The bike I'll be riding is pedal-assist, it's hybrid technology.
"So after about 80 emails we got this category agreed with them. I'll be going for the record for the: 'Fastest Isle of Man TT mountain course electric bicycle'. Getting that agreed was the hardest bit and everything really fell into place from there!"
Although this will be a new official Guinness World Record, an unofficial record for the course is already held by Isle of Man local TT hero Conor Cummins.
"I'd been chatting to a guy called Simon Crellin, who is the chief press officer for Isle of Man TT Week," Mat says. "My original plan was to do this challenge during TT Week on a non-race day. But once I'd contacted the police to see if I could have a police escort it became apparent I wouldn't be able to do it during that week, it's simply too dangerous. The mountain section of the TT circuit has no speed limit — you get people going out early in the morning riding like lunatics.
"So that idea fell apart, but Simon suggested the Shopright Challenge, which happens every year and is a cycling time trial. He said he could get me free entry into that, and as it happens Conor Cummins did it a couple of years ago on an electric bike, which was loaned to him by the Mercedes Benz dealership on the Isle of Man. Conor did it in 2h 41m, on a Smart electric bike, but he stopped for a cup of tea with his mum in Ramsey. So I'm going to maintain the tradition and my mate will be standing outside Conor's mum's house with a cup of tea and a camera waiting for me!"
Although Mat has his own e-bikes for commuting and mountain biking, his sponsor — e-bikeshop.co.uk in Farnham — is getting hold of a quick model from manufacturer Moustache. "It's flat-bar, but it's more geared up for road riding than a typical hybrid. Assuming I get around my lap without any mechanical failures or crashes then I should be a World Record holder," he says.
"If I'm going to have to ride flat out, or as flat out as I can do for a couple of hours, then I have that in my tank as it is. I'm still going out for three or four hours cycling every Sunday morning with my mates. I'm cycling to work, which is 30 miles a day anyway. But I am entirely e-bike now. I was getting further and further back, and my energy levels are dropping consistently with my kidney function, which is now 20 per cent function.
"Stopping cycling isn't really an option, but thankfully technology is on my side and I've now got an electric mountain bike. It meant I had to get rid of my Orange mountain bike, which I loved, but after riding a load of demo mountain bikes with e-bikeshop I just came back thinking it was absolutely the right thing to do. I realise this is just a stage of my life, and if it keeps me riding and having fun — I can still get out, see my mates and enjoy the mid-ride banter — then it's a means to an end.
"The doctors won't touch me until my kidney function drops to 10 to 15 per cent. I'm currently at 20 per cent, so we're getting there. It's now a question of watching my numbers and waiting, but it's incredibly frustrating because I can feel my energy levels dropping. To a great extent I just want to get the transplant over and done with, then I can get on with dealing with all the post-transplant issues I'll face. I'm very lucky that my brother-in-law has volunteered to give me his kidney. He's had all the tests and CT scans and he's a perfect tissue and blood match, so we're good to go.
"Thankfully, doing challenges like this World Record attempt also gives me something else to focus on. I'm really looking forward to it. I'm a bit nervous, but it's just going to be fun. We'll try to film as much of it as possible. I hope it's going to be dry. I think it's probably going to be very windy in places, and I know climbing up Snaefell is going to be hard — the mountain is huge — especially if I'm doing it with a headwind. I know we'll have to stop and change the battery at some point, but I'm hoping we can get two-thirds of the lap up to the foot of the mountain before having to do that. Then I can try to get my knee down on some of the corners on the descent!"
Please support Mat by liking his Facebook page.
Mat Dibb is a keen cyclist who suffers from chronic kidney disease, we catch up with his progress
For most of us, cycling is a way to keep fit, for Matt Dibb, it's a matter of life and
Thank you for reading 20 articles this month* Join now for unlimited access
Enjoy your first month for just £1 / $1 / €1
*Read 5 free articles per month without a subscription
Join now for unlimited access
Try first month for just £1 / $1 / €1