Mat Dibb - The road to transplant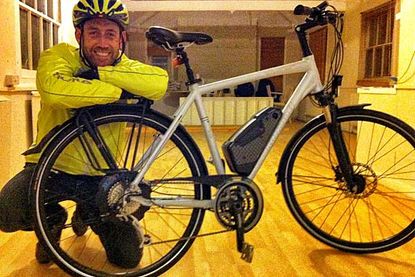 Earlier this year we met Mat Dibb, a keen cyclist who suffers from focal segmental glomerulosclerosis - chronic kidney disease. Since we ran our original story Mat's kidney function has dropped to less than 25 per cent and it is now expected he will have a transplant within a year. Over the coming months, Cycling Weekly online will be following Mat's journey up to and beyond surgery.
"Although my kidney function has deteriorated I've carried on cycling all year," Mat says. "The weather this summer has been fantastic for riding and I did quite a lot throughout the summer, no specific events but I did go to the Isle of Man to do some mountain biking, which was awesome. There is some great mountain biking to be had over there with stunning views of the coast wherever you are up on the mountain.
"But I'm starting to notice a fairly steady decline in energy levels when I ride now. The deterioration of my kidney function dictates that I'm now six to 12 months from needing a transplant. So I've been referred to the transplant coordination team and we're looking at tissue matches for possible live donors. That's the stage I've gone into in the last month.
"My brother-in-law has stepped forward to be a potential donor, which is quite exciting because he's a keen cyclist: he's fit and he doesn't drink or smoke. He has to go through a blood test initially - if it's not a match on blood type then it doesn't go any further - but it looks like it might be OK. Then there is a whole series of further tests, but the process is not as invasive as it used to be with tissue matching."
Energy levels
"Being so close to transplant means I'm having to consider energy levels and general health in all my cycling plans now," Mat says. "Before a ride I have to take a look at how I'm feeling that day or that week. I have to consider things like the temperature outside, and try to be sensible.
"The cold saps anyone's energy, but it seems to be even worse with me at the moment. I'm also more prone to colds and chest infections because my immune system is suppressed from all the steroids that I've been on. So I have to be careful with that, and that in turn determines the length and routes of my rides on any particular day.
"Then post-ride I am increasingly suffering from muscle cramps more than ever. That's due to the kidneys not filtering away electrolytes and just not doing its job properly.
"Those are all the negatives, but there are plenty of positives: I'm still exercising and I'm very lucky that I'm still able to. I continue to drag myself out whether I feel like it or not, because I very quickly get the benefits afterwards, and I feel so much better for it," Mat says.
"One thing that I've started to look at to see me through the next difficult few months is electric bikes. That's not something I've ever looked at before - I've always thought they were for old, fat people, or something along those lines but now realise how wrong I was! Having done some pretty extensive research I've been looking specifically at pedal assist bikes. With this type you're still pedalling but you also get the help whenever you need it."
Boosting your chances
"I've had a whole series of conversations with a fantastic company called 50cycles.com which specialises in e-bikes - I bumped into company director Scott Snaith on their stand at the NEC Cycle Show - and I told him about my medical situation," Mat says.
"Astonishingly they've let me use an electric bike free of charge, which is amazing, and I've agreed to help them look at how e-bikes can help pre and post-transplant patients in their recovery process and get back to full fitness. I think there's a massively untapped market of patient recovery through e-biking and as a committee member of South West Thames Kidney Fund I will be helping spread the message.
"Doctors recommend gentle exercise post-transplant, with activities such as walking, but I can see how e-biking could also be a huge help to patients. You wouldn't want to jump on a mountain bike and climb a steep hill straight after surgery, but it seems to me that gentle exercise via pedal-assisted cycling has to help recovery and be more enjoyable for existing cyclists.
"So with my new e-bike, a Kalkhoff Pro Connect Xion I've started commuting to work, which is about 12.5 miles away, through the very hilly back lanes of deepest Surrey. When it's not tipping it down or sub zero, I'm doing a 25-mile return trip on the electric bike at the moment.
"I don't have a shower at work, so I commute to work with maximum assistance. I contribute a little bit of effort and feel like I've had a bit of exercise on the way there, but I'm not dripping with sweat. Then on the way back I can reduce the electric assistance and put some more effort in and have a shower when I get home. Or if I'm not having a good day, I can have maximum assistance on the way home too, and it still only takes me about 15 minutes longer than driving. It's brilliant, I can't praise it highly enough - even for cyclist without a medical condition like mine.
"I'm managing to e-bike to work most of the week and I still have legs fresh enough at the weekend to go out on my mountain bike. So that's about as good as it can get for me right now. I'm very wary that I'm not going to be able to do all of that as things fall away and my energy levels drop. But even if I get to the stage where I don't fancy pushing myself on my mountain bike I've still got the e-bike to fall back on which means I can still continue cycling to some degree but never end up stranded away from home."
Follow Mat's progress over the coming months here, via DibbFest on Facebook and his follow his daily biking encounters on twitter via @KalkhoffEbiker.
Related links
Riding to stay alive: Mat Dibb
Thank you for reading 20 articles this month* Join now for unlimited access
Enjoy your first month for just £1 / $1 / €1
*Read 5 free articles per month without a subscription
Join now for unlimited access
Try first month for just £1 / $1 / €1