Riding to stay alive: Mat Dibb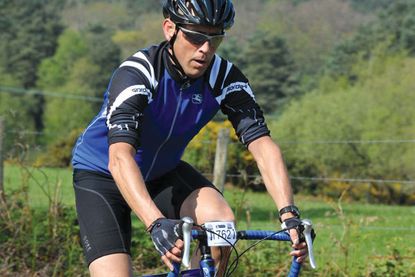 Get The Leadout Newsletter
The latest race content, interviews, features, reviews and expert buying guides, direct to your inbox!
Thank you for signing up to The Pick. You will receive a verification email shortly.
There was a problem. Please refresh the page and try again.
Anyone who has discovered they have a serious chronic disease could be forgiven for retreating into their shell. But some people, like 42-year-old Mat Dibb, prefer to face the problem head-on.
"I was diagnosed with focal segmental glomerulosclerosis [FSGS] - chronic kidney disease - in 1991," Mat explains. "I'd joined a joined a new doctor's surgery, and he picked up that I had too much protein in my urine sample.
"He couldn't find out why but ran a biopsy and discovered I had this kidney defect. I was told that it may never affect me and that I just needed to go for check-ups annually." With that, he got back on his bike.
"I carried on with life. I've always loved cycling, and it became even more important to me after I was diagnosed, so I kept riding. In fact, a couple of years ago, I did John o' Groats to Land's End - 1,000 miles in 10 days, unsupported, with my best mate and biking buddy Paul Evans. Then, eight months ago, I had a call from my doctor.
"They had the blood test results back and it wasn't looking great. I had another biopsy and it confirmed that my kidney function was deteriorating quite considerably. My overall kidney function had been about 70 per cent of a normal kidney's function. Now it's dropped to between 30 and 35. When it goes down to 10 or 15 per cent, I'll go on to dialysis and on to the transplant list." Although Mat is passionately determined to keep cycling, with this deterioration has come increased difficulties.
"As well as cramps and general fatigue, the other thing that's very much a side-effect of kidney disease is high blood pressure," Mat says.
"I'm on medication for that but I have to reduce my dose on the days I'm doing a big ride because exercise naturally lowers your blood pressure anyway, and the combination of that with the medication can be dangerous.
I discovered this fairly recently when nearing the top of very steep hills and my ride mates have had to stop me falling over. Also, I can't have post-ride baths anymore because that also lowers your blood pressure significantly. I have to take a shower.
"Mainly it's about understanding my body and its reaction to everything, and managing that with the fierce determination to continue cycling.
Refusing to stop
"I guess I don't do myself any favours, because I still go out in the freezing cold and torrential rain. There's a wonderful off-road descent from Hindhead - it's my favourite downhill - but in the wet, it's just like a riverbed. I rode it flat-out a couple of weeks ago and ended up drenched from the waist down. I probably shouldn't do things like that, but that's part of the fun, isn't it?" Despite the risks, Mat's desire to keep cycling has significant health benefits.
"My doctor said that the fitter and healthier and leaner I am going towards surgery and transplant, the better [my] chances [of] having a good recovery post-transplant as well," Mat explains. "So I'm balancing what I can reasonably expect from my body with being as fit as possible. Sometimes I do have to give in and accept that I'm feeling unwell or exhausted and just relax, but I'd rather fight the thing head-on.
"I do a two or three-hour ride every Sunday morning with my ride mates and I'm turbo-training at least two or three times a week. That's about all that I can achieve at this time of year, but come summer I plan to do all of that with more road riding and some sportives, depending on how I feel," Mat continues.
"I'm absolutely going to keep cycling after surgery, too. I've been told to expect at least two months off work after the operation, so I'm assuming I won't be allowed on my bike then either, but I see cycling very much playing a part in my recovery process. I think I'll need it mentally as well as physically - cycling has always helped me from a psychological point of view, and now it's more important than ever for me to remain positive.
"But I'm also aware of people who have had transplants and who have gone on to be very successful. In fact, there are even the World Transplant Games. I'm not necessarily assuming I can compete in something like that, but you never know."
Riding the risks - Mat Dibb
Like most cyclists, fitting in riding time around family and work life is hard enough for dad-of-three/IT project manager Mat. But kidney disease means he has some extra hurdles to overcome.
"One of the main side-effects is muscle cramp, which is to do with electrolyte filtration and electrolyte balance in the body," Mat says.
"Then there is general fatigue, which is inevitable. My immune system is completely shot, so I can be feeling fine one day and literally hospitalised with pneumonia the next - which happened three times last year."
Since we ran the story earlier this year, Mat's kidney function has dropped to under 25 per cent and tests to find a live donor have started. It is expected Mat will have a transplant within a year. Over the coming months, Cycling Weekly online will be following Mat's journey leading up to surgery.
Next week: how an electric bike is helping Mat keep cycling.

This article was first published in the March 7 issue of Cycling Weekly. You can also read our magazines on Zinio, download from the Apple store and also through Kindle Fire.
Thank you for reading 20 articles this month* Join now for unlimited access
Enjoy your first month for just £1 / $1 / €1
*Read 5 free articles per month without a subscription
Join now for unlimited access
Try first month for just £1 / $1 / €1
Get The Leadout Newsletter
The latest race content, interviews, features, reviews and expert buying guides, direct to your inbox!