Matrix-Vulpine apply to become UCI-ranked women's team
Leading domestic squad seeking to move up a level for 2015.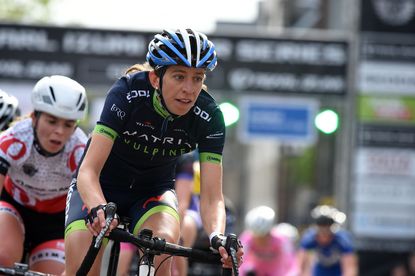 Matrix-Vulpine, one of Britain's leading domestic women's teams, today announced their intentions to become a UCI-registered outfit for 2015.
Stef Wyman's squad, who were only one of two home-based trade teams to ride at this year's Friends Life Women's Tour, have the promising Jessie Walker and para-cycling world champion pilot Corrine Hall among their roster.
A statement released this morning read:
"Five years of concerted efforts by On The Drops and our partners to develop women's cycling, as well as vying for a place in the peloton has flown by. The UK has now got televised races, a UCI stage race in the form of the Women's Tour of Britain, and a depth of competition never seen before. We are, however, still lacking a domestic professional team for British road riders to aspire to. In 2015 we hope to change this as we take the project forwards to become a full UCI pro team.
We have the necessary letters of intent from our major sponsors and are working hard to secure some additional superb elite riders that will be necessary to make this project a success. Our ambition is to create a team and structure, that can go to pro races to be in the cadre of potential winners or at least shine through our performances at the highest level
We now have the funding to commence the UCI professional registration process and we are committed to a largely British team. We are also looking at the potential of an official feeder team in the UK from which stagiaire riders would be called. We have already commenced the search for team accommodation in Belgium, likely Oudenaarde, and a service course facility."
Should their application prove successful, Wyman will likely step away from his role as directeur sportif to manage the team.
Thank you for reading 20 articles this month* Join now for unlimited access
Enjoy your first month for just £1 / $1 / €1
*Read 5 free articles per month without a subscription
Join now for unlimited access
Try first month for just £1 / $1 / €1