Motorpoint wins British team time trial champs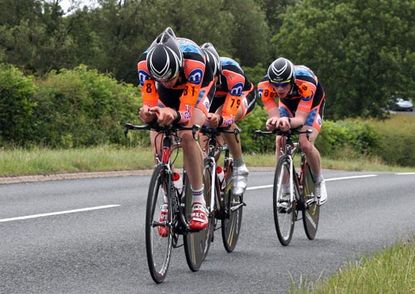 The Motorpoint Marshalls Pasta team of Ed Clancy, Andrew Tennant and Steven Burke won the RTTC Team Time Trial Champs on Sunday.
With a comfortable lead of 50 seconds at the half-way point the trio of GB squad pursuit riders cruised around the 33 mile rolling circuit starting and finishing in Middleton Tyas, North Yorkshire.
SigmaSport Specialised and I-Ride.co.uk were the only teams to keep the GB riders in their sights, but the tight formation and strong team work of Clancy, Tennant and Burke ensured they had a minute and 19 seconds lead at the finish.
Olympic gold medallist Ed Clancy had been concerned before the race that his team of track pursuiters were pitting themselves against time trial specialists. On paper Wouter Sybrandy, Phil Sykes and Jerone Walters from Sigma Sport and the I-Ride team of Matt Bottrill, Adam Duggleby and Julian Ramsbottom were all capable of causing an upset.
Motorpoint Marshalls Pasta team manager Keith Lambert was happy with a National Championships win for his riders, he told CW, "I like to think my riders are all-rounders capable of competing at a high level in all the cycling disciplines. There was some very tough competition here today and we are delighted to win a RTTC championship".
Clancy commented after the prize presentation, "we're used to riding very short but extreme efforts as a pursuit team, so today we had to measure ourselves over 33 miles, we set off on what we thought was a pretty steady pace, but realised we were about 25 seconds up on the others at our first time check, we kept it together and were lucky not to have any mechanicals or problems, because without following team cars allowed that would have been game over."
However Clancy was disappointed not to receive a RTTC Champs cap with his gold medal. " I thought we would get one of those, I really wanted one for my trophy box".
Maybe organiser Andy Cosgrove can arrange three caps for the winners, between them they already have Olympic Gold and Bronze medals, with World Championships and World Cup jerseys in the wardrobe, but still they covet that elusive RTTC cotton cap.
RESULTS, from www.cyclingtimetrials.org.uk
PosRiderClubTime
1 Steven Burke, Ed Clancy, Andrew Tennant Motorpoint, Marshals Pasta 01:06:13
2 Wouter Sybrandy, Phill Sykes, Jerone Walters Sigma Sport Specialized Cycling Team 01:07:32
3 Matthew Bottrill, Adam Duggleby, Julian Ramsbottom I-Ride.co.uk - A 01:07:42
4 Daniel Shand, Mike Cuming, Richard Handley Team Raleigh 01:08:20
5 Simon Baxter, Martin Gibson, Shaun Tyson Adept Precision RT - A 01:12:11
6 Jim Cusick, Ian Sim, Alan Thompson Glasgow Couriers CC 01:12:21
7 James Cambridge, Geoff Platts, Scott Walker I-Ride.co.uk - B 01:12:52
8 Scott Povey, Matthew Purshouse, Richard Shimmell Warwickshire RC 01:12:59
9 Dave Collins, Keith Murray, Paul Oldham Westbrookcycles.co.uk/Scott/Hope 01:13:23
10 David Crawley, Nick Giles, David Williams Fibrax Wrexham RC 01:13:49
11 Darren Gee, Russ Richardson, Martin Worner Teesdale CRC 01:15:56
12 Darryl Barr, Jon Hepper, Rob Sherrin a3crg 01:16:14
13 Craig Fenwick, Danny Grieves, David Robinson Tyneside Vagabonds CC - A 01:16:50
14 Nick Walford, Matthew Nicholls, George Bate MJS Racing - A 01:17:04
15 Ben Lane, Michael Mallen, Phil Souter GS Metro 01:17:58
16 Simon Hudson, Duncan Mullier, Malcolm Yates Harrogate Nova CC - A 01:18:15
17 Martin Osman, Richard Deeley, Simon Darrall MJS Racing - B 01:19:27
18 Roger Clarke, Paul Rider, Adam Hogarth Tyneside Vagabonds CC - B 01:19:37
19 Hayden Maughan, Philip Addyman, Gareth Huxley Ryton Triathlon Club - A 01:19:48
20 Colin Gardener, Dave Garner, John Swinbank Ryton Triathlon Club - B 01:20:48
21 David Curtis, Phillip Curtis-Whitfield, Thomas Woodward Avonlea-Treasure RT - B 01:20:51
22 Russell Boon, Adrian Bult, Alan Cooper Avonlea-Treasure RT - A 01:26:46
23 Mike Hutchings , Christopher Mawer, Richard Timms Harrogate Nova CC - B 01:27:02
24 Ritchie Case, Danny Winthorpe, Kyle Watts Tyneside Vagabonds CC - C 01:32:07
Thank you for reading 20 articles this month* Join now for unlimited access
Enjoy your first month for just £1 / $1 / €1
*Read 5 free articles per month without a subscription
Join now for unlimited access
Try first month for just £1 / $1 / €1