Movistar use turbo power to wish fans a Merry Christmas (video)
With some CGI assistance, Movistar light up their local Christmas tree using the collective power of their turbo trainers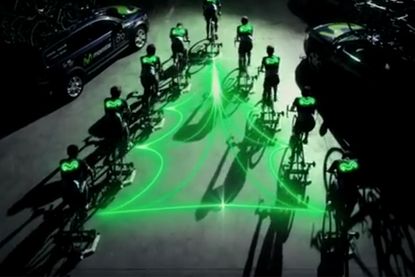 Riders from Movistar have come together to wish their fans a Merry Christmas with a festive video.
Gathering in the service course for what at first appears to be a group turbo training session, there's soon more to it when the M on their kits lights up.
The pros, including Britain's Alex Dowsett, Grand Tour winner Nairo Quintana and the ever-consistent Alejandro Valverde, ride in the video to "share the energy that has driven them this year."
That energy - with a bit of computer assistance - goes on to light up a local street decorations and a town centre Christmas tree, and fans are told to "light up their Christmas."
As is now the norm, Movistar will head into the 2017 as a force to be feared for the other teams.
A strong squad and arguably the best out-and-out climber in Quintana (when he's firing on all cylinders), the Spanish outfit could finally break Team Sky's dominance at the Tour de France.
The 2017 season is already an exciting prospect.
Thank you for reading 20 articles this month* Join now for unlimited access
Enjoy your first month for just £1 / $1 / €1
*Read 5 free articles per month without a subscription
Join now for unlimited access
Try first month for just £1 / $1 / €1