National Trophy: Mechanical mayhem at Mallory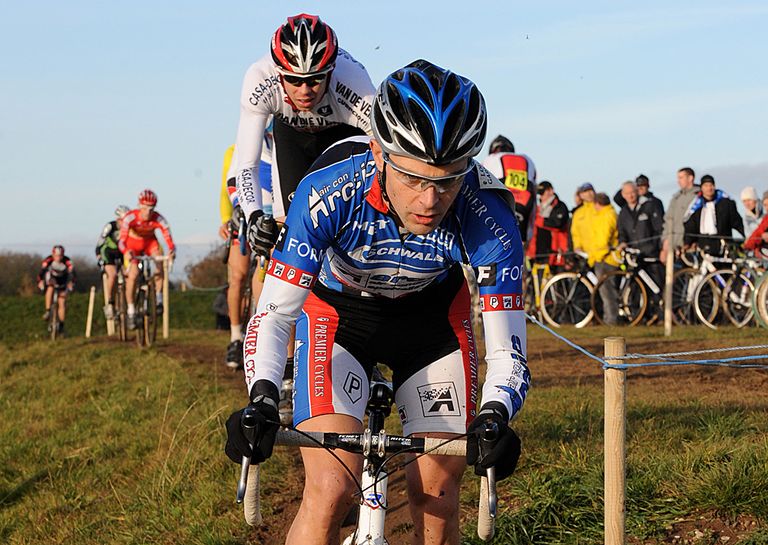 Mud and mechanicals were the order of the day at Mallory Park as Frenchman Nicholas Bazin won the latest cyclo-cross National Trophy round at the motor racing circuit for the second year running.
British champion Jody Crawforth was an early victim, losing his rear mech and facing a long run to the pits. "I felt it happen during the first lap," he said. "But it held together, only to rip off altogether five minutes later."
"It seemed like every other person in the race had a problem of one sort or another," commented the Arctic-Premier rider on the high casualty rate that included plenty of punctures alongside the many riders who lost mechs to the cloying mud.
Crawforth clawed his way back through the field in impressive style to finish third behind Bazin and Belgian visitor Jan Van Dael. Paul Oldham (Hope Factory Racing) plugged away for sixth position to keep the series leader's yellow jersey.
"I was feeling really good," said Crawforth. "I led off from the start. Another lap and I could have caught Van Dael."
Having already ripped off one gear mech during his warm-up, Crawforth questioned whether the course needed to run through the 100 metre section causing all the trouble. "I am a sponsored rider, so it is not such a problem, but two chains and two mechs for one race is a bit much. The rest of the course was pretty challenging without that section."
And what about the so-called 'Curse of Mallory'?
"That's a load of bo**ocks!" says Crawforth. "You make your own luck." The 29 year old from Surrey will be looking to turn things around at the next National trophy round in Bradford on December 13.
Junior Hannah Barnes certainly made her own luck in the women's race with a convincing win from Adela Carter and Ruby Miller having ridden the previous night's Revolution in Manchester.
RESULTS
Senior men 1. Nicholas Bazin (Team Differdange) 2. Jan Van Dael (Sunweb Pro-Job) 3. Jody Crawforth (Arctic-Premier)
Women 1. Hannah Barnes (Candi TV-Marshalls Pasta) 2. Adela Carter (Crosstrax ) 3. Ruby Miller
Under-23 men 1. Tom Payton (Cult Racing) 2. Jamie Harris (Cult Racing) 3. Robert Watson (Paul Milnes RT)
Juniors 1. Tom Moses (Team Wallis CHH) 2. Alec Briggs (Arctic-Premier) 3. Perry Bowater (CC Giro)
RELATED LINK
Sickmuller wins round three