Ned Boulting returns with one-man cycling theatre show Tour de Ned
Al Murray called his last tour "by far the best cycling-related one-man show around"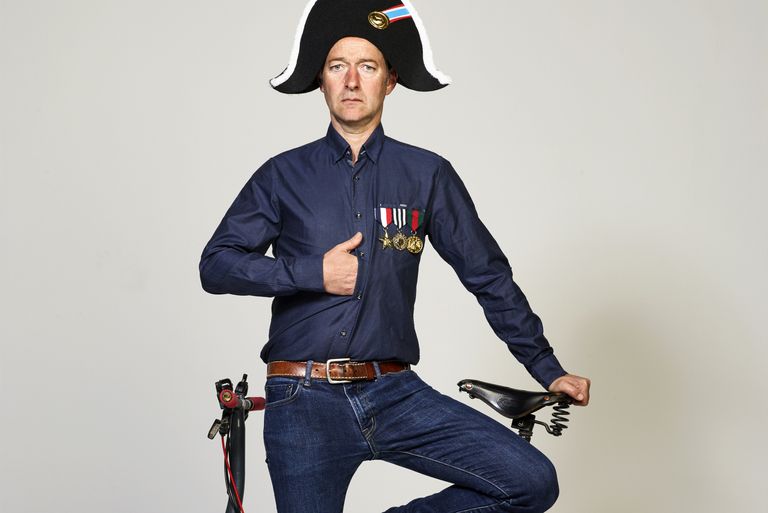 (Image credit: Picasa)
Journalist, author and presenter Ned Boulting will be touring the UK later this year with his new show, Tour de Ned.
The 21-date tour promises to relieve the summer races "seen from the sometimes wonky perspective of the man who is paid to watch the telly and shout out names as riders climb, crash, stop for a poo and attack each other."
The ITV presenter's most recent production, Bikeology, was on tour for over two years and sold more than 20,000 tickets, with comedian Al Murray calling the creation "by far the best cycling-related one-man show around." And not only by default, we think.
With Tour de Ned, the show's namesake aims to recreate the drama of the greatest grand tour in the calendar - reliving some of the best moments from the race that will dominate our screens come July.
We're also promised exclusive video that will "lift the curtain" on life on the road with ITV's Tour de France team, bringing life to the experience of covering a race of this level.
Speaking of the Tour de Ned, Ned Boulting said: "Tour de Ned is the living proof, based on the fact people keep showing up, that you can create a theatrical show relating to cycling. Whether you're cycling mad, like cycling a bit, or accidentally booked the wrong tickets thinking I was somebody else, you're in for an experience worthy of the world's most bonkers sporting event.
"I'm thrilled to be back a year later, under the spotlight - like a Tour de France rider under suspicion - but with more body mass, mainly from 3 weeks of eating mostly bread and cheese."
Tickets are available to book, for the following dates:
Friday 28-Sep SOUTHAMPTON Nuffield Theatre Campus
Thursday 04-Oct EXETER Corn Exchange
Friday 05-Oct BRISTOL Anson Rooms
Tuesday 09-Oct SWINDON Wyvern Theatre
Thursday 11-Oct MELTON Theatre
Friday 12-Oct RICHMOND Theatre
Monday 15-Oct LEEDS City Varieties Music Hall
Tuesday 16-Oct LEAMINGTON SPA Royal Spa Centre
Sunday 21-Oct EDINBURGH Assembly Roxy
Monday 22-Oct ARBROATH The Webster Theatre
Monday 29-Oct HIGH WYCOMBE Wycombe Swan
Tuesday 30-Oct HERTFORD Theatre
Wednesday 31-Oct STAMFORD Corn Exchange
Thursday 01-Nov NEWBURY Corn Exchange
Sunday 04-Nov CLECKHEATON Town Hall
Tuesday 06-Nov ILKLEY King's Hall
Wednesday 07-Nov PRESTON Charter Theatre
Friday 09-Nov SOUTHPORT The Atkinson
Thursday 15-Nov WHITLEY BAY Playhouse
Friday 16-Nov SCARBOROUGH Spa Theatre
Saturday 17-Nov LINCOLN Theatre Royal