New 'Noticeboard' section in this week's CW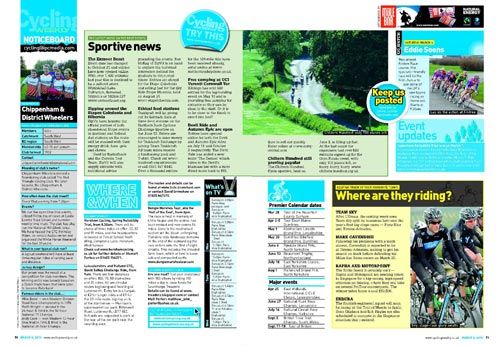 'Noticeboard' is a brand new section making its debut in Cycling Weekly magazine this week (March 4 issue). Situated after the Rides section, it contains a host of information on the coming week's cycling events.
In Noticeboard you will find a listing of the week's big races; events to go and watch; cycling-on-TV listings; cyclo-sportive entry updates; and even event headquarter changes.
Club profiles are back, so you can see who is close to you to ride with - or check up on a rival club! And you can find out what the top British pro riders and teams are up to in the 'where are they riding' section.
Cycling Weekly Noticeboard is sponsored by Mule Bar.
Related links
What's in Cycling Weekly March 4 issue
Subscribe to Cycling Weekly magazine>>
If you would like your event or updates to feature on Cycling Weekly's Noticeboard, then please email penny_comins@ipcmedia.com with at least 12 days' notice.