Newton wins Tour DoonHame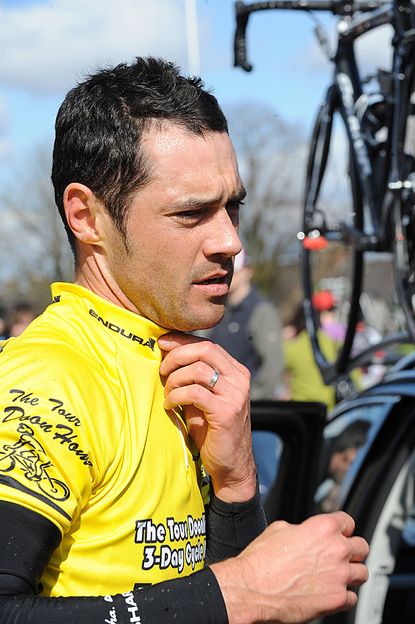 Chris Newton (Rapha-Condor-Sharp) has won the inaugural edition of the Tour DoonHame, weathering some bitter Scottish weather and a string of attacks in the 81-mile final stage.
Rapha's efforts to control the stage were pushed hardest by a valiant solo bid from Endura rider Jack Bauer, which was rewarded by stage victory in Dumfries.
"That was tough for me at the end; thankfully I had it a bit easier at the start. It was a difficult day because the conditions didn't really help for a team to control it," Newton said.
"In that tailwind, it was very hard to bring back Bauer. Fortunately, the last two couple of climbs before the finish allowed us to really get the time back; there was three or four of us drilling it in the last 20 kilometres," he continued.
Driving winds and teeming rain made for bitter racing weather in the morning before abating later on.
New Zealand national champion Bauer bridged across to the leading breakaway before dropping his companions and going it alone with thirty miles remaining.
Despite a protracted chase from the Rapha-Condor-Sharp team and the fact that his advantage never exceeded ninety seconds, powerful Bauer managed to hold off the pursuit, throwing his bike at the finish line. While his margin of victory boosted him to second overall, it wasn't quite enough to overhaul Newton.
"I'm stoked to win the stage, but really I hoped to put a bit of time into Newton. I thought if I could just hold them off by 22 seconds, I could even take yellow," the Endura rider said.
Peter Williams (Motorpoint-Marshalls Pasta) finished third overall, repeating his podium finish from last year's Girvan.
Tour DoonHame 2010, stage three: Dumfries-Dumfries

1. Jack Bauer (Endura Racing) 81 miles in 3-15-39
2. Ian Bibby (Motorpoint-Marshalls Pasta) at 7secs
3. Steve Lampier (Pendragon-Le Col-Colnago)
4. Ian Wilkinson (Endura Racing)
5. Chris Opie (Pendragon-Le Col-Colnago)
6. Malcolm Elliott (Motorpoint-Marshalls Pasta)
7. Wouter Sybrandy (Sigma Sport-Specialized)
8. Yanto Barker (Pendragon-Le Col-Colnago)
9. Marcin Bialoblocki (Wilier-Bigmaggys.com-Prendas Ciclismo)
10. Dale Appleby (Team Raleigh) all at same time


Final general classification
1. Chris Newton (Rapha-Condor-Sharp) 9-53-25
2. Jack Bauer (Endura Racing) at 10secs
3. Peter Williams (Motorpoint-Marshalls Pasta) at 18secs
4. Evan Oliphant (Endura Racing) at 20secs
5. Ian Wilkinson (Endura Racing)
6. Jonny McEvoy (Motorpoint-Marshalls Pasta) at 24secs
7. Malcolm Elliott (Motorpoint-Marshalls Pasta) at 26secs
8. Steve Lampier (Pendragon-Le Col-Colnago)
9. Kit Gilham (Sigma Sport-Specialized) at 29secs
10. Wouter Sybrandy (Sigma Sport-Specialized) at 30secs



Hot spot sprints winner: Peter Williams (Motorpoint-Marshalls Pasta)
King of the Mountains winner: Ian Bibby (Motorpoint-Marshalls Pasta)
Team winner: Endura Racing


Related linksTwo in a row for Newton in Scotland
Newton takes Tour DoonHame opener Tour DoonHame 2010: The Big Preview
Thank you for reading 20 articles this month* Join now for unlimited access
Enjoy your first month for just £1 / $1 / €1
*Read 5 free articles per month without a subscription
Join now for unlimited access
Try first month for just £1 / $1 / €1