Nonnas Cycling Emporium
Nonnas and the Cycling Emporium, based in Sheffield, is the UK's little Italy, celebrating all things Italian and cycling, Sophie Hurcom finds out more...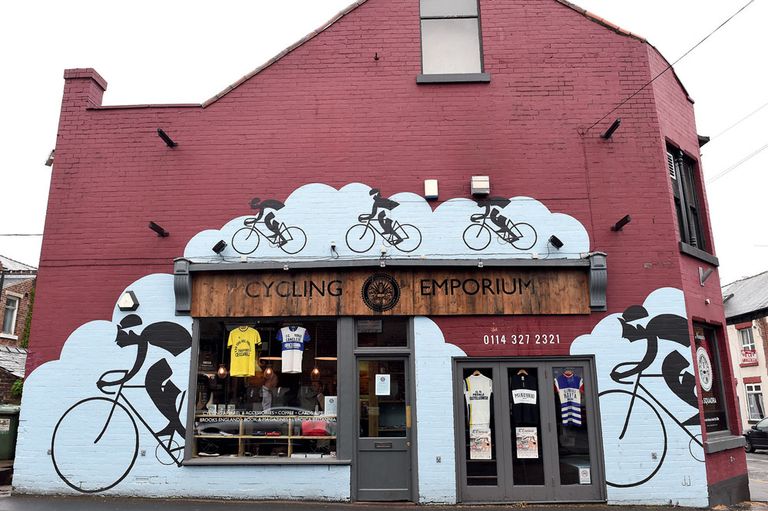 (Image credit: Andy Jones)
When Gian Bohan opened Nonnas restaurant in Sheffield, he wanted to bring a taste of Italy to the UK — but as well as Italian food and drink, he has also embraced their cycling culture.
"My grandmother lived in a town called Modena, Italy," Bohan said. "Every summer we were sent over to live in this fantastic delicatessen. From an early age, I was subjected to all this fantastic food.
"We'd been used to the culture in Italy, where the coffee bar is central to life, like the pub, and thought we'd do that, and combine it with a delicatessen."
There followed a trip to Italy with a business partner for inspiration: "We got in a van and drove over to Turin, toured around Liguria, Tuscany, and filled our van with fantastic produce as we went." With his heritage in mind — 'Nonnas' means grandmother in Italian — the first restaurant opened in Sheffield in 1996.
Italian routes
But when a friend suggested Bohan try cycling six years ago, Nonnas's relationship with cycling began. Bohan travelled to Italy to complete the Maratona Dolomites, a one-day fondo, and that was the persuasion he needed. "Great kit, great bikes, a fantastic arena to do it in, that was my hook," he said.
Soon, Bohan was participating in charity rides with the likes of Freddie Flintoff and Lawrence Dallaglio, and regularly riding with friends. So he decided to open a cycling club within the restaurant, La Squadra.
He started organising cycling events, hosting post-ride pasta parties, and making connections with local riders such as Russell and Dean Downing and Ben Swift. Bohan realised they needed to create a central cycling hub.
"About two years ago, I had an annex off the main site of Nonnas — we made a La Squadra HQ cycle cafe," he said. Now called the Cycling Emporium, this is where Nonnas embraces its Italian roots and celebrates its love of cycling.
"Cycling is now an integral part of the Nonnas brand"
Decorated with collected memorabilia, vintage shirts and posters, there is also a shop, where products include Brooks saddles and coffee named after the Grand Tours and Classics. There's even a limited-edition coffee dedicated to Ben Swift's third place at Milan-San Remo.
Today La Squadra has over 100 members, with the cafe at the heart, showing races on TV and acting as a meeting point for members.
"It's like camaraderie really," Bohan said of the club. "We've got a good spectrum of riders, some that are top-end and some that are a bit more leisurely. That's great."
As well as two restaurants (there's a Chesterfield branch) and the cafe, Bohan also opened Casa di Nonnas, a holiday villa in Tuscany. "I love the travel within cycling," Bohan explained, and it's no coincidence that the property is near the same roads where many British pro-riders train.
Alongside Nonnas, Bohan has been instrumental in bringing the L'Eroica Britannia event to the UK. The sportive has been held in Tuscany since 1997, and is famous for celebrating vintage cycling gear and Italian culture and cuisine. This June, a British version is taking place at a three-day festival in Yorkshire.
"Two years ago I went to Tuscany for the L'Erorica event," Bohan said. "The stars aligned. You put Italy, cycling, food, drink, altogether and I thought, 'Wow, this is amazing'. We thought we should bring this to England."
Cycling is now integral to the Nonnas brand. And why wouldn't it be? As Bohan says: "That culture of Italian coffee and cycling goes hand in hand."