It's official: Cycling to work will help you lose weight as effectively as going to the gym
Plus it's cheaper and more fun too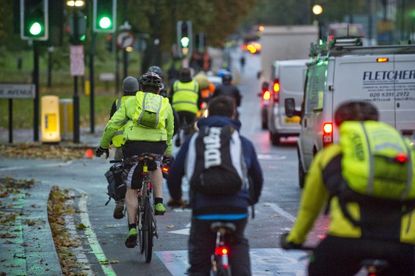 (Image credit: rupert fowler)
In news that will come as no surprise to cyclists around the world, academics have found that cycling to work is as effective a method for losing weight as regular trips to the gym.
The research, which was carried out at the University of Copenhagen and published in the International Journal of Obesity, looked at the effect of cycling to work and hitting the gym for weight loss among overweight people.
>>> How to lose weight cycling: Six essential tips
The 130 overweight participants in the study were divided into four groups: one group riding their bikes to and from work (averaging 14km per day), two groups hitting the gym five days per week, one for 35 minutes at high intensity and the other for 55 minutes at moderate intensity, while the fourth group made no lifestyle change.
As you would expect, the last group didn't lose any weight over the six month period of the study, while the group exercising in they gym at moderate intensity lost an average of 2.6kg in fat mass.
Watch: Six tips for weight loss for cyclists
However the best results came among those cycling to work and exercising at high intensity in the gym, with those groups losing on average 4.2kg and 4.6kg in fat mass respectively.
While the weight loss was similar among both groups, the authors of the study say that cycling to work will be the best for most people to shed a few pounds.
>>> Nine reasons why commuting by bike is surprisingly brilliant
"This is good news to the many overweight people who may not have the time or inclination to join a fitness centre, because they also have to pick up their children and cook dinner after work", said Bente Stallknecht, head of the University of Copenhagen's Department of Biomedical Sciences.
"Our results show that it is possible to combine transport to and from work with effective physical exercise."
As well as the weight loss benefits of cycling to work, we'd also add it's significantly more fun and cheaper than going to the gym, and comes with the huge added benefit of not coming with the soul-sapping feeling of having to motivate yourself to exercise while staring at a wall.
Thank you for reading 20 articles this month* Join now for unlimited access
Enjoy your first month for just £1 / $1 / €1
*Read 5 free articles per month without a subscription
Join now for unlimited access
Try first month for just £1 / $1 / €1