OLYMPICS 2008: TRACK DAY FOUR IN PICTURES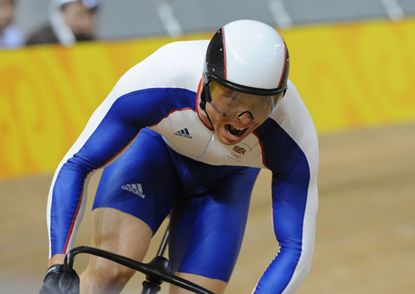 Another day, another gold, and a world record to boot. It's hard to come up with new things to say about this British team, they're better than anything we've ever seen before. Not even Lance Armstrong in his prime was this good.
The highlight of today had to be the team pursuit world record being smashed to smithereens by the British team. They took a whopping two seconds off the record they set the night before in round one. This itself was an improvement on the record they set in Manchester at the world championships this March.
The sprinters continued their seemless progression in to the semi-finals. Both Chris Hoy and Jason Kenny look likely to meet in the final as no one has got close to either of them so far.
In the women's sprint competition, queen Victoria Pendleton seems to have two kilometres per hour more than anybody else. The team of sprint coaches have obviously done their job with the Brits.
Once again the pictures are provided by top cycling snappers Andy Jones and Graham Watson.
On their way to one of the standout performances of these Games, the British team pursuit quartet, lead here by Ed Clancy, race to their second world record in 24 hours. This time beating it by two seconds.
The British pursuit team fulfil their destiny and take Olympic gold, giving them a clean sweep of all Olympic and world pursuit titles. The time of 3-53.314 Should be out of the reach of every other nation for many years.
The Danish team gave the Brits the impetus they needed to break the world record after giving them a scare in the first round. Their challenge faded somewhat in the final.
Victoria Pendleton cruised through her first two sprints, but looks set to meet Chinese sprinter Shuang Guo in the semis who?s looking fast and have the crowd behind her.
Newly crowned pursuit champion Rebecca Romero gives some Charlie big potatoes in the points race to make sure her opponents had to work. She?d had 24 hours to prepare for this race and unsurprisingly lacked the turn of speed so crucial for this event
Can anyone stop Chris Hoy? Possibly not. Here he dispatches of Malaysia?s Mohd Azizulhasni Awang.
The Netherlands? Marianne Vos was too quick for the rest of the field, and now adds the Olympic title to her world title won in Manchester.
American Sarah Hammer?s disappointing Games come to an end when she crashes out of the points race. Hammer, a former pursuit world champion failed to medal in the 3k event and was then taken out of the points race.
Waheey! How did that one get in there? Andy Jones gets a little distracted as he waits for the cycling to start.
Sprint coach Jan Van Eijden holds up man mountain Chris Hoy before his sprint against Mohd Awang of Malaysia. Hoy won. Awang pulled a wheelie as he crossed the line.
Smiles all round as the British pursuiters land the big one, and with a world record to boot.
Okay everybody, caption competition time. What?s Ed saying to Geraint? Answers to cycling@ipcmedia.com
All together now! God save our??. , well, we were singing along.
Britain?s boys in white and blue thunder along at 65kph, and making it look so simple.
The team pursuiters grab a flag and the photographers grab a few snaps of the new Olympic champions.
Jason Kenny dispatches of French sprinter Kevin Sireau with frightening ease. Kenny is perhaps the only rider who can mount a challenge to Chris Hoy. The two are looking like they might meet in the final
Rebecca Romero gets ready for the points race, her second ever.
Marianne Vos bounced back from a poor showing in the women?s road race to win the points race on the track. She was the only woman to gain a lap on the rest of the field.
Victoria Pendleton walks all over Simona Krupeckaite of Lithuania in the sprint. Krupeckaite took silver at the worlds but knew she had no chance here, going out fast from the start and giving Pendleton a free ride to the line.
The women?s points race in full flow. Mairianne Vos (centre in orange and white) featured heavily in the sprints and her gold saved the Dutch team?s poor showings so far.
Nuff said.
Swipe to scroll horizontally
OLYMPIC GAMES 2008: TRACK
Preview: Day five at the Laoshan
Brad on Cav: He's like a schoolkid he's so up for it
Day four as it happened: Team pursuit gold and another world record
Day three summary: Gold for Romero. Pendleton, Hoy in charge in sprints. Kenny the revelation
From rower to cyclist: Romero takes an emotional gold
Brits smash world team pursuit record in round one
Tough day for the Dutch
Preview: Monday at the Laoshan
Day two in pictures
Sunday's action as it happened
Preview: Sunday at the Laoshan
Day two at the track: Summary of the action
Hoy and Edgar clean up in the Keirin
Wiggins gets pursuit gold, Burke wins bronze
Newton storms to bronze in points race
Saturday's action as it happened: Two gold, a silver and two bronze for Britain
Blog: Life in Laoshan
Day one in pictures
Brits blast to team sprint gold
Day one at the track: Summary of the action
Friday's action as it happened: Gold for team sprint trio; Wiggins, Houvenaghel and Romero well in control
Burke blasts to new individual pursuit PB
British track stars raring to go
What makes the Laoshan such a challenge
Picture special: CW takes you inside the Laoshan velodrome
Saturday's preview
Friday's preview
Can these legs make an Olympic champion?
Cavendish unlikely to ride individual pursuit
How many medals will Britain's riders win?
Swipe to scroll horizontally
Positive test for cyclist at Olympic Games
Bettini chasing second Olympic gold
Romero poses nude for ad
British quartet eyeing new world record
As Olympics approach two new drugs emerge
Beijing Blog
Beijing Blog 2
Beijing Blog 3
Swipe to scroll horizontally
Picture special: Women's time trial
Cancellara wins men's time trial gold
Men's time trial reaction: Steve Cummings on his ride
Women's time trial reaction: I feel fantastic, says Pooley
Pooley wins silver in women's time trial
Cooke's secret was the skinsuit
What the papers say... about Nicole Cooke
Analysis: women's road race
Gold for Nicole Cooke in Women?s road race
Reaction: It?s a dream to win Gold, says Cooke
Women's Olympic road race picture special
Sanchez gives Spain gold in thrilling men?s road race
Who is Samuel Sanchez?
Tactical analysis: Reading the men?s Olympic road race
British riders suffer in hot and humid Olympic road race
Rebellin misses out on golden birthday
Brailsford confident ahead of women?s road race
Swipe to scroll horizontally
OLYMPIC GAMES 2008: GUIDE
Olympics cycling results>>
Cycling event schedule>>
Great Britain rider profiles>>
Cycling event guide>>
Photo gallery>>
Every British cycling medal ever won at the Olympic Games
From paupers to kings: The lottery funded revolution>>
Track results at the Worlds and Olympics 2004-2008
Thank you for reading 20 articles this month* Join now for unlimited access
Enjoy your first month for just £1 / $1 / €1
*Read 5 free articles per month without a subscription
Join now for unlimited access
Try first month for just £1 / $1 / €1