One Pro Cycling team partner with Aston Martin for 2018
British cycling team One Pro Cycling links up with prestige sportscar manufacturer Aston Martin for 2018 and 2019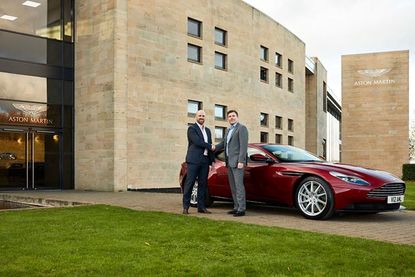 British team One Pro Cycling have partnered with car manufacturer Aston Martin for 2018 and 2019.
As part of the deal, Aston Martin will design the UCI Continental-level squad's clothing and will host the outfit's official launch at its Dover Street showroom in London during February.
Former England cricketer and One Pro Cycling founder Matt Prior says that the team and Aston Martin "share a lot of values".
>>> One Pro Cycling announce three-year partnership with Boardman Bikes
"We are delighted to welcome Aston Martin as a partner to the team," said Prior. "We share a lot of their values, especially when it comes to competition.
"We've created a team for the fans, a team that is accessible and open in the same way that Aston Martin Racing [AMR] is. Our riders, just like the AMR drivers, engage with the fans whether they are at the races or on social media and that is one of the main reasons we both enjoy such loyal fan bases.
"To be able to bring such a prestigious brand as Aston Martin into the sport of cycling is hugely exciting and shows that this team is doing the right things and heading in the right direction."
The squad has seen several changes in their roster for the 2018 season, and will race with 10 riders rather than the 13 riders in 2017. Matt Winston has moved up from being head sports director to team principal.
Chris Latham, Jacob Scott, Szymon Tracz, Jake Kelly and Emils Liepins are new signings, joining Tom Baylis, Karol Domagalski, Hayden McCormick, James Oram and Pete Williams from the 2017 roster.
Long-term, the team says that they still have ambitions to ride in future editions of the Tour de France and Vuelta a España.
The team dropped from Professional Continental to Continental level in 2017 due to the withdrawal of sponsor Factor Bikes.
Boardman Bikes stepped in as the squad's bike sponsor on a three-year deal, from 2017 to 2019.
Thank you for reading 10 articles this month* Join now for unlimited access
Enjoy your first month for just £1 / $1 / €1
*Read 5 free articles per month without a subscription
Join now for unlimited access
Try first month for just £1 / $1 / €1