Opening today: Cycling in London - the best of contemporary illustrators at London Transport Museum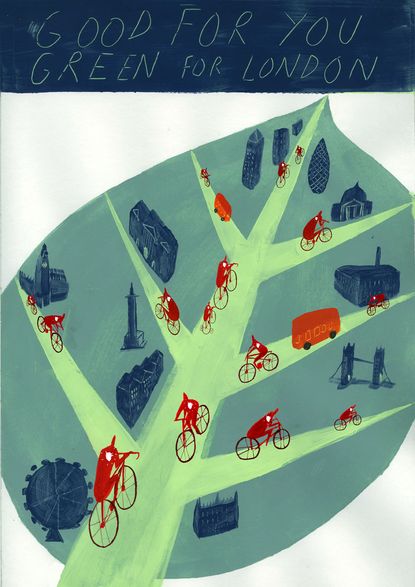 Cycling in London, an exhibition featuring the work of the best of contemporary illustrators, opens today at the London Transport Museum, Covent Garden Piaza and it's on until 22nd August 2010.
Over 50 works of art, all with the theme of cycling in London will be showcased as part of the Museum's Summer of Cycling celebration.
The illustrations have been drawn from over 1,000 entries submitted by professionals and students in an annual competition open to leading illustrators throughout the world; artists were invited to submit illustrations that interpret the environmental, health and recreational benefits of cycling in London.
Sam Mullins, London Transport Museum Director, said, "London transport is synonymous with design excellence and here at London Transport Museum we have one of the most important collections of graphic art in the world. And so it is great for the Museum to be able to celebrate and interpret a topical transport theme, such as cycling, through the creative process of illustration."
The winner, announced last night, is Rachel Lillie from Surbiton whose suitably leafy entry will be turned into a Transport for London poster on the network.
Our favourite, however, and shown below is a cheeky and nostalgic pastiche of the 1970s blockbuster book 'The Joy of Sex' and is by graphic designer Jamie Wieck.
The Cycling in London exhibition will be displayed in the CBS Outdoor Gallery at London Transport Museum, Covent Garden Piazza, London, WC2E 7BB and admission is included in the entry ticket to the main Museum galleries (adults £10.00; senior citizens £8.00; students £6.00; under 16s free). For further information visit www.ltmuseum.co.uk or call 020 7565 7298.
'Cycling in London' by Jamie Wieck
'Cycling in London' by Frances Castle
Thank you for reading 20 articles this month* Join now for unlimited access
Enjoy your first month for just £1 / $1 / €1
*Read 5 free articles per month without a subscription
Join now for unlimited access
Try first month for just £1 / $1 / €1