Ordnance Survey releases incredibly detailed mapping app
Mapping company Ordnance Survey releases detailed app aimed at cyclists and other outdoor pursuit enthusiasts, covering every inch of Great Britain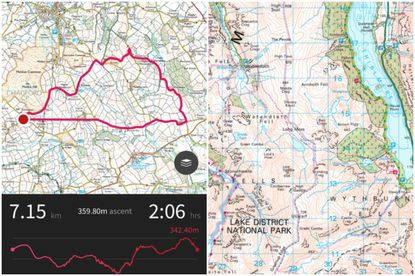 Remember the days when to look at a map you had to unfurl a huge piece of paper and work out exactly where you were based on the position of local landmarks? It's likely those maps were produced by Ordnance Survey.
The Southampton-based mapping company is now bringing its incredible collection of cartography to its new app, which looks incredibly detailed and is aimed at cyclists, walkers, runners and any other outdoors enthusiasts you can think of.
>>> Check out the Ordnance Survey sportives
It's free to download, but if you want the most detailed map available at your fingertips you have to pay a subscription fee.
You can access digital versions of all 607 Explorer and Landranger maps in the OS collection, which represent total coverage of Great Britain.
>>> Seven ways to find great new places to ride
The subscription also allows off-road routing options in all 15 of Britain's National Parks and will soon be available for use offline so you can use it without destroying your data plan.
If you want to subscribe for a month to cover your holiday it'll set you back £3.99, while an automatically renewing 12-month subscription is £19.99.
Thank you for reading 20 articles this month* Join now for unlimited access
Enjoy your first month for just £1 / $1 / €1
*Read 5 free articles per month without a subscription
Join now for unlimited access
Try first month for just £1 / $1 / €1