Over 1,700 have registered for London Cycle Hire scheme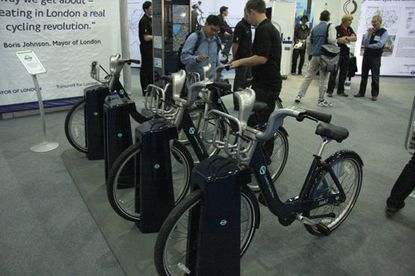 By this morning (Friday), over 1,700 "pioneers" had registered as London Cycle Hire members, one week before the Mayor of London's flagship Barclays Cycle Hire scheme is due to open (July 30).
However, the project, part of Mayor Boris Johnson's cycling revolution, is going live only to pre-registered members. Casual users will have to wait for about four weeks before they can use the scheme.
London Evening Standard said (Last Monday) that the delay was because not all the 400 docking stations housing 6 000 bikes were yet in place.
But according to well-informed cycling circles, the delay is to allow Serco, who are operating the system, time to learn how Londoners engage with the scheme and to allow it time to bed down.
By registering, for daily (£1) , weekly (£5) or annual membership (£45), people are entitled to an electronic key to take a hire bike from one of the 400 docking stations in Central London.
The first half-hour of use is free, thereafter the charge is £1 for an hour, £4 for up to 90 minutes, and £6 for up to two hours.
The Mayor of London, Boris Johnson said: "From today, we're offering Londoners their very own keys to the city, in the guise of Barclays Cycle Hire membership. For as little as 12p a day, members of this fantastic new addition to our transport system will have the freedom of central London. This scheme is set to become a new icon of the Capital and will enable thousands more people to cycle in our magnificent city."
TfL say the Barclays Cycle Hire scheme is expected to generate u p to 40,000 extra cycling trips a day in Central London.
For more information on how to become a member of Barclays Cycle Hire and advice on how to use the scheme visit www.tfl.gov.uk/barclayscyclehire
Thank you for reading 5 articles this month* Join now for unlimited access
Enjoy your first month for just £1 / $1 / €1
*Read 5 free articles per month without a subscription
Join now for unlimited access
Try first month for just £1 / $1 / €1
Keith Bingham joined the Cycling Weekly team in the summer of 1971, and retired in 2011. During his time, he covered numerous Tours de France, Milk Races and everything in-between. He was well known for his long-running 'Bikewatch' column, and played a pivotal role in fighting for the future of once at-threat cycling venues such as Hog Hill and Herne Hill Velodrome.